Audio-Technica has been appointed distributor for Optimal Audio in 17 territories across Europe and Africa. The company will assume distribution activities at launch on 20 April 2021.
'Optimal Audio is an exciting, innovative new brand that shares Audio-Technica's values of delivering quality audio for all, while perfectly complementing our best-of class, end-to-end signal chain portfolio of distributed brands; from microphone though processing, to speaker,' says Audio-Technica Europe CEO, Robert Morgan-Males.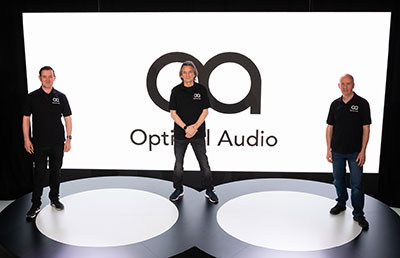 'This distribution agreement allows us to yet again strengthen our commitment to providing customers with efficient, effective and streamlined solutions, and we're looking forward to working with Optimal Audio as the brand builds and grows over the coming years.'
In development over the past three years, the new venture marks the Focusrite Group's seventh brand, and aims to simplify the frequently complex world of commercial audio. 'Optimal Audio provides a streamlined product offering working seamlessly together to deliver high quality sound that is easy to install and can be operated by anyone, not just engineers,' explains Focusrite CEO, Tim Carroll.
Dom Harter, now MD for both Martin Audio and Optimal Audio, describes the focus of the brand as 'offering a one-stop solution of control, amplification and loudspeakers for small to medium-sized commercial installations, with a focus on supporting multi-zone venues.
There is currently nothing else at this price point on the market which has the functionality and versatility to allow such a quick and simple set-up,' he adds.
At the core of the eco-system are four and eight-zone, powered and passive zone controllers. Compatible with any device, Optimal Audio's WebApp makes system set-up straightforward, allowing installers as much access as they require to configure EQ, devise presets and structure time-of-day routines. Once completed, venue staff can then be presented with a simple, intuitive user interface that allows them to operate the system.
Territories in which Audio-Technica will have sales responsibility for Optimal Audio includes Belgium, France, Germany, Ireland, Luxembourg, Netherlands, Portugal, Spain, UK, Bosnia & Herzegovina, Bulgaria, Croatia, Romania, Slovenia, Algeria, Morocco and Tunisia.