Seeking new studio monitors in late 2020, Miami Beach Recording Studios (MBRS) co-owner Pablo Reynoso called his old pal, PK Pandey, founder of Symphonic Acoustics, who obligingly installed custom-built 2X8V monitors with 12-inch subs – and then tuned the MBRS Studio A control room.
'Some of the monitors that we've used in the studio previously have been very impressive, and listening to certain recordings on them always elicits a response,' Reynoso says. 'But compared to all the speakers we've had before, once the Symphonic Acoustics Dual 8V speakers were installed, it was like a veil had been lifted, and I saw the sonic image with greater clarity and transparency.'
Reynoso is also a skilled music producer, sound designer and tech geek, and has with artists as diverse as Lil' Wayne and Paul Messina, the Boston Choral Ensemble, Styx and Three Dog Night. He has brought his flair to the MBRS Studio A control room since coming onboard as a business partner 2015.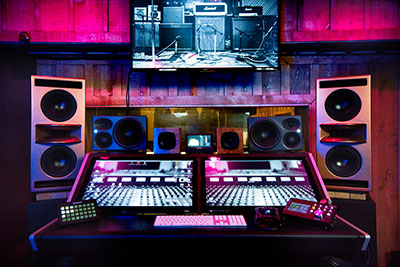 'Although I grew up in Mexico City, my dream has always been an American dream, and I'm living it,' Reynoso says. 'I went to Berklee as a musician, but when I was thrown to the other side of the glass and into the control room, it became my lab – and it was in there that I decided that making music from the control room is what I want to do.'
With a Berklee degree, recording studio experience and a solid software foundation with which to start making music on his own, Reynoso met Pandey while setting up his own Technicolor Lounge Studios.
'I had heard some stories about PK, since everybody in the Berklee community seemed to have some connection to him, back then,' Reynoso says. 'Once I decided to start my own studio, I sold my Mustang and was getting ready to buy some stuff. But, some people around Boston who knew my plans all started telling me that I needed to talk to PK before I acquired anything from a retail store, so I got his number from a friend and set up a meeting. PK made me feel special, right away. 'Now, 20 years later, there's a lot of stuff that I still have in my studio that I bought from PK. And he's one of my best friends.'
Designed in collaboration with George Augspurger, WSDG's John Storyk, engineer Renato Cipriano and REDI Acoustics, Symphonic Acoustics' 2X8V studio monitors deliver large-format SPL from a 13-inch-wide cabinet.
'I can tell people all about it, and I can even set up mics to try to help demonstrate to people online, but you have to be here in the room,' Reynoso says. 'It's not just listening to the music through the speakers – your hair needs to move and you need to get that physical reaction in your body.'
See also:
Symphonic Acoustics Dual 2X8V