Having completed the installation of a classic Audient ASP8024 mixing desk at his recently opened Thunder House Studio, owner Nick Diiorio now wants 'to be able to give bands a better opportunity than I had, to make great sounding music'.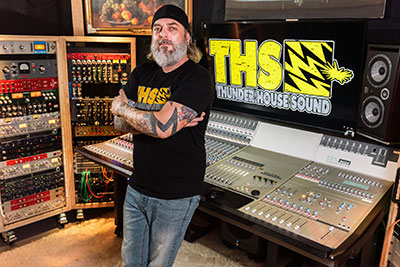 The recording facility is part of Thunder House Sound (THS) – comprising a live sound company, backline equipment rental and now the studio – that Diiorio has been steadily developing since late 2019 in Saint Lucie County, Florida. Numerous 'unremarkable' studio experiences recording his own bands led him to target local, unsigned artists. 'The local band may not always be local,' he points out. 'They always have the most to learn about anything in the music world. I love being able to teach and help them evolve.'
This concept of offering better service, information and support mechanisms to these musicians is already bringing in business. Pop-punk band, Point of View is a regular Thunder House Studio client, recording one to two songs a month, and Diiorio has just begun tracking the latest album for ambience pop-rock band Sandman Sleeps, due to be mixed by multiple gold record producer James M Wisman.
Diiorio's own journey began in high school when he joined a punk band playing drums, 'or whatever instruments were lying around in his basement'. He would record their music using a cassette recorder with dual quarter-inch jack inputs with a couple of Radio Shack mics plugged in. 'There was a lot of experimentation,' he confesses. 'The punk world showed me there are no boundaries in music, and DIY became my standard operating procedure.'
Time passed, and he continued on the DIY route. He read about, bought and traded gear, starting out with an 8-channel interface. 'The first time I had a console in front of me, I knew it was the way I wanted to work,' he says. 'I have had analogue and digital consoles over the years and when I got my first look at an Audient, I felt like it was the perfect professional desk to meet my needs and budget. I had been eyeing the ASP8024 with DLC for about seven years and when I found what I was looking for on the used market I jumped at the chance to bring it home.
'My basic tracking set-up is 24 bus plus the eight subgroup buses for 32 inputs, and I use the additional x8p for any extras, like DI signals or other secondary signals that may not need to be heard through the console during tracking,' he explains. 'I have a basic signal flow with outboard preamps and other analogue boxes pre-patched to most of the channel inserts. I am also running a few analogue reverb and delays,' he says, fully satisfied with how it has all come together. 'My setup does exactly what I need it to.'
Although it's still early days, Diiorio knows that whatever happens, there will always be a studio in the mix. 'I think a part of me always wanted to do something with sound and music. From cassette recordings in my basement, to working on car audio, to finally running live shows and opening the studio, I think it was inevitable that I would end up where I am.'