Serving the world's fourth largest stock market, the Shanghai Stock Exchange is located within Shanghai's financial centre where a professional audio upgrade of its auditorium was recently completed using loudspeaker systems from Renkus-Heinz installed by integration firm Tico.
The auditorium is an architecturally impressive space that comes with a number of design challenges. Seating rises from the front of the theatre, and the design features large red walls to separate seating areas. The steep rake of the seating required consideration to the vertical coverage of the audio system.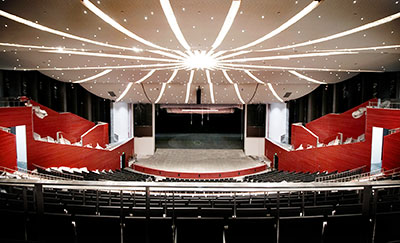 Renkus-Heinz' PN102/LA series line array was selected for sound delivery with the Rhaon II Audio Operations Network handling system control and management.
Tico provided technical engineering expertise in the design and installation of the system, has 'won high praise from users with its impressive acoustic design and perfect delivery'.
'When you have a space like this auditorium, which looks very impressive, you don't want to compromise,' says Tico Technical Manager, Lin Jinzhao. 'With Renkus-Heinz there is no compromise. The speakers blend into the space and sound excellent. Everyone has praise for the system.'
Tico's technical engineers used Renkus-Heinz hardware to fly the line array, including the low-frequency elements. The audio workflow uses Dante as the primary signal and control protocol, meaning the system is scalable and allows for future expansion.
'The result is an excellent sounding audio system and a very happy client,' Lin says. 'With Renkus-Heinz we are able to offer impressive audio solutions for everyone, no matter the design, size or shape of a location. And that is a very exciting thing to offer as a system designer and integrator.'
More: www.renkus-heinz.com