One of the growing number of live events staged in the shadow of the Covid-19 pandemic was a performance of Verdi's Rigoletto by the Tulsa Opera, staged at Oneok Field, home to the Tulsa Drillers minor league baseball team and Double-A Affiliate of the LA Dodgers. An audience of 1,685 socially-distanced members seated in the 2,700-capacity stadium was served by an L-Acoustics Kara PA system provided by locally company Axiom Audio.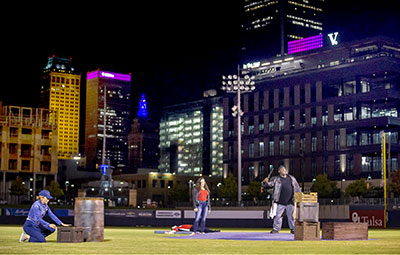 The system comprised 24 Kara enclosures, six SB18 subs, and three four-speaker clusters of Kiva II used as centre and side fill, all powered by six LA12X and three LA4X amplified controllers. The loudspeaker system was connected via an Optocore fibre-optic network to a DiGiCo SD10 FOH mixing console paired with two SD-Racks.
The event's PA design was sui generis, as dictated by stadium management disallowing the rigging that would have been necessary to fly the sound system on the field's grass areas – as would typically be done in an outdoor location such as this. Instead – taking its cue from Super Bowl music system configurations – the Kara speakers were loaded onto nine wheeled carts. These lined the first and third baselines, four per side, facing the grandstands, with the ninth cart positioned at home plate, just in front of the low risers that were the stage for six orchestra members: two violins, viola, cello, bass and piano. This arrangement provided the necessary coverage for all of the widely-spaced grandstand seating.
However, it also created the added challenge of putting loudspeakers on the field, as the opera singers, unfamiliar with wearing wireless microphones, would roam about during the performance, creating the potential for feedback each time they neared a loudspeaker cluster. The solution was to make each cart its own node on the system, putting each of the nine speaker pods on a matrix at the front of house, allowing FOH engineer Steve Colby to turn off individual loudspeaker clusters as a performer approached one.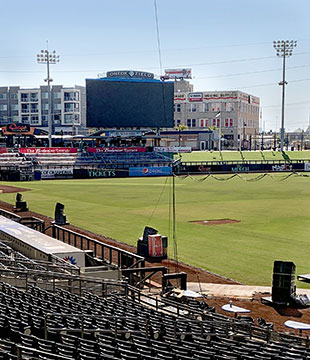 'We made the speakers individually controllable through the matrix,' says Axiom Audio President, Ben Bruce. 'Performers were moving all across the infield, and they're opera singers, so they would be loud. Having individual control over the elements in what was essentially a distributed audio system greatly reduced the potential for gain-before-feedback. The Kara speakers were a perfect fit, in terms of size and power, for this.'
Colby agrees that the L-Acoustics system helped make the unique location for the opera performance a resounding success: 'Kara's coverage properties allowed for a large and effective stereo field between any two of the arrays deployed around the field,' he says. 'As a result, we could pan vocals and effects a little farther apart than usual without diminishing the experience for audience members who were not centred between the arrays. In particular, this was noticeable with the amount of artificial acoustic "space" we created using a touch of reverb.
'The available SPL and overall fidelity of the speakers are quite amazing given the compact size and light weight of the product. We were able to produce excellent coverage from a very small footprint. Ben Bruce at Axiom deserves all credit for laying out the speaker arrays and planning coverage. We planned to go with his existing L-Acoustics inventory from the start, so we discussed the extent of the Covid-defined seating, sightline issues, and my desire to have all the arrays be independently fed, and he ran with it, designing a system with excellent coverage and fidelity.'
Bruce is happy to credit the L-Acoustics components for letting the opera happen without a hitch: 'That really began back in the shop, where we used L-Acoustics Soundvision to design the speaker placements,' he explains. 'It was spot-on; when we arrived at the field with barely a day to set up, the angles were perfect. We positioned the boxes on the carts at the shop, and they were ready to roll. We had clarity and intelligibility, which are crucial for a show like this.'
L-Acoustics was also chosen for opera on the diamond. 'L-Acoustics has paid special design attention to handling the speaker crossovers in such a way that does not contribute to boxiness or other artifacts that are so noticeable when you are attempting to make the PA invisible by amplifying speech and singing without any effects beyond reverb. L-Acoustics has always been ahead of the curve on this,' says Colby, who also mixes and designs sound for the Boston Pops Orchestra and Boston Landmarks Orchestra. 'My experience with L-Acoustics is that all of the product lines excel at reproducing the natural sound of the human voice.'