The Clive Davis Institute of Recorded Music at New York University's Tisch School of the Arts has purchased a 32-channel API Legacy AXS mixing console with Final Touch automation, plus two API The Box consoles, for its new Brooklyn campus.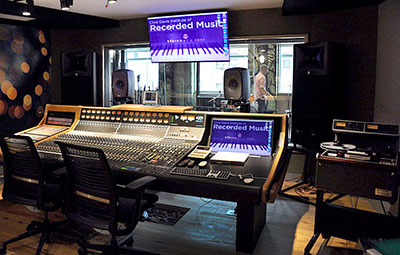 The new campus consolidates the university's media, technology and arts department in the former headquarters of the New York City Transit Authority at the MetroTech Center. The studio and music spaces at the Clive Davis Institute were designed by Francis Manzella's FM Design, and include four large studios, two production suites, one critical listening room, five edit suites, four practice rooms, two rehearsal/music performance rooms and two computer labs.
The institute's relationship with API dates to 2006, when it purchased the third API Vision console manufactured at the suggestion of associate arts professor/associate chair Nicholas Sansano. An engineer, producer and musician, Sansano began his career at Greene Street Recording in NYC working on the first Legacy ever made. 'API to me represented colour and a certain added thickness – "added" being the operative word,' he says. 'The console gave you back more than what you put into it.'
When the Clive Davis Institute moved to new premises in late 2019, Sansano again turned to API: 'We went back to basics, so to speak, and purchased the more conventional configuration of the Legacy AXS for the new space. We needed the sound, but not the multi-channel capability. We also purchased The Box consoles for smaller-scale production suites.'
The new Legacy AXS has been installed into Studio 3, known as the Nature Room for its forest imagery and colour scheme. Here, engineering classes are held for first year students along with some advanced production classes. The room is also bookable by students working on curricular and personal projects, and the whole facility is open till midnight seven days a week.
'We have a total of about 250 students, and over a semester any given room will see immense traffic,' says Sansano. 'We treat the instruction and our facilities as being as "real world" as possible, and many projects from our production classes are released commercially by the students – once a project gets a grade, ownership reverts to the student.
'The studios represent exactly what students will move into, or aspire to move into, professionally. If they wish to stay gear-consistent from studio to studio, we have a number of API Lunchboxes loaded with API and other 500 series gear. So even when we don't have an API console in the room, we always have outboard API preamps, EQs and compressors. Again, it's a great teaching tool - we want them to experiment with a variety of gear, and to learn to really hear the difference. Once they do, they can make selections based on their taste and the artistic task at hand. They will almost always see API gear in a professional setting; hopefully we are teaching them why.'
Like most large-format consoles, the Legacy can be a little overwhelming for students at first sight. 'We have found that they are quickly up and running, and the learning curve is in fact not as steep as more multi-function, deeply layered, menu-based gear,' Sansano reports. 'Having all your options in sight and tangible seems to put the students at ease. It also gives them confidence when they use the two production suites with the API Box consoles.
'We find that API consoles work really well in hybrid mix mode, using portions of the desk as a summing amp. In particular, the design of The Box facilitates hybrid mixing with ease. Faculty and guests love the sound of the AXS console, as well as the sound of the room.'
The investment in API underlines the institute's commitment to analogue. 'Digital recording is the standard; however, in pop music I have yet to see a series of front-end gear that matches the quality of analogue preamps, EQs, and compressors in the recording process,' says Sansano. 'Since we almost exclusively deal with pop music in all its forms, the idea of added colour, added harmonic information and non-linearity is exactly what we're looking for. We're not always looking to capture and recreate sound in an exacting linear way, like a classical music engineer or producer would.
'Analogue components are a part of the pop sound palette. Secondly, it is much easier for students to learn signal flow and gain staging on analogue gear. You can show components, in series, that are real, not virtual. This allows students to better understand the trajectory of the signal, and what's happening on its journey. Our philosophy is, let us set an analogue benchmark, and allow students to hear and use what is commonly trying to be emulated in the box. Then students can make a more informed choice and embrace a hybrid world that combines the best of analogue and digital.'
More: www.apiaudio.com