The first event in Florence's Musica in Giro sustainable and social distance-enabling initiative took place behind the closed doors of the Verdi Theater on 1 August, with young Italian conductor Beatrice Venezi directing the Orchestra della Toscana in a performance of her first album My Journey - Puccini's Symphonic Works.
At the opening Luigi D'Amico – who devised the event in collaboration with K-array VP Global Sales & Marketing of Stefano Zaccaria, with support from Toyota Material Handling Italy, Simai, and Tab Italia – explained that the purpose of Musica in Giro 'is to give a little contribution to return to the some sort of normal, offering people entertainment in compliance with anti-assembly rules'.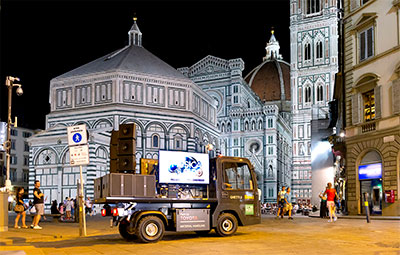 The project was made possible be the main sponsors' creation of the Cricket PE30, the first fully electric vehicle with professional equipment onboard for sound reinforcement. Conceived by Zaccaria in full lockdown, the vehicle is deigned to assist the events sector as it needs to reinvent itself in terms of services and products.
Two Cricket PE30 vehicles served Musica in Giro, broadcasting the entire while following two routes through the streets and squares of Florence. One of these began at Piazza Santo Spirito, passing through some of the Piazza Pitti, Ponte alle Grazie, Via Tornabuoni, Piazza della Signoria and Piazza Santa Croce, while the other, set off from Piazza dell'Isolotto and continued along Via Torcicoda, Via Modigliani and Via dell'Argingrosso.
The fully electric 'caravan' enabled people in the street and others looking out of their windows to listen live to the concert, and expressed their appreciation for the initiative by taking photos, videos and some dancing to the music being played in the Verdi Theater.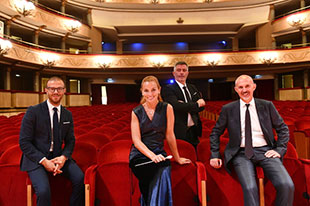 Florence Deputy Mayor Cristina Giachi made an appearance via video link with a pre-recorded greeting on behalf Mayor Dario Nardella and Councilor Tommaso Sacchi, expressing pleasure at having co-promoted the event and thanked the main sponsors for providing an extraordinary gift to the city of Florence.
The CEO of Toyota Material Handling Italy, Leonardo Salcerini, also spoke at the opening of his satisfaction at having decided to invest in the new format, and in particularly in the launch event in the city of Florence.
Venezi said that the concert was a journey not only through the streets and squares of Florence, but also in the symphonic music of Giacomo Puccini. She also expressed her appreciation for the initiative, and for the fact that the debut of the format was classical music.
Dedicating the concert to coronavirus victims, she said she considered it 'a concrete response to a period of great difficulty for everyone, including the theatres, which in this period cannot accommodate many people. Though, in perspective, when you hope it will be possible to return indoors and fill the audiences, with the format Music in Giro, you can reach an ever wider audience.'
See also:
Simai Cricket PE30