K-Array and Simai have jointly devised the Cricket PE30, the first commercially available fully electric vehicle equipped with a professional loudspeaker set-up – available in three configurations, optimised for use in classical music, pop/rock music and club music applications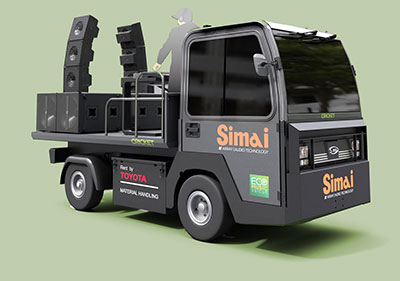 Italian company Simai specialises in electric tractors and flatbed transporters, and conceived the PE30 in conjunction with fellow Italian company K-Array to meet the requirements of live music event management during the emergency linked to the Covid-19 pandemic. With a 3,000kg payload and 8,000kg towing capacity, the vehicle is 1.56m in width, 3.825m long and 1.9m high.
'Our expectations have been amply rewarded by the interest of the main operators in the events sector, says K-Array VP of Sales & Marketing, Stefano Zaccaria.
'It is the first fully electric vehicle intended for this use. We immediately convinced ourselves that thinking about a solution capable of guaranteeing a slow, safe and eco-sustainable movement would have been a win, though unconventional. Right from the initial design stages, we wanted to design solutions capable of meeting the expectations of our customers, mainly small and medium-sized rentals, who in turn support the events of supporting DJs and solo performers.'
'In K-array we have found a partner with our same enthusiasm and spirit of adaptation to difficulty despite the current situation,' says Simai MD, Massimiliano Bariola. 'And this special project – precisely within the context of social distancing and proximity to urban areas which are the most difficult to reach and travel – will provide maximum performance in terms of both mobility and sound.'
'A distinctive feature of the Italian DNA is knowing how to reorganise, reinvent and have the ability to find the right formulas to overcome difficulty,' adds Toyota Material Handling Italia CEO, Leonardo Salcerini. 'The initiative promoted by Simai and K-array is placed precisely in this context – Cricket is a simple, yet dynamic and complete solution that can be a valid solution for the world of entertainment, among the most affected sectors by the health emergency, and can subsequently meet challenges presented in other applications.
'Furthermore, the vehicles used are produced in Milan and are electric, strengthening our commitment in terms of sustainability and respect for the environment. Toyota Material Handling Italia, contributes with commitment to the project, making its commercial network available for rental, vehicle assistance and operator training throughout the country.'
Simai Cricket PE30 vehicles will be marketed with short and long-term rental solutions by Toyota Material Handling Italia – Simai having been acquired by Toyota Material Handling Europe in 2016.