Real Life Church Ministries offer 'biblical context in casual environments', operating on a daily basis through social media, mobile devices and traditional television through aggressive use of technology. 'We do slamming music here at Real Life Church,' asserts Kevin Watkins, Director of Broadcast and Technical Operations.
'We are a church for the unchurched, so our worship music is not your typical church sound,' he elaborates. 'It's not choir, it's not orchestra, and it's not four or five singers standing up there with music accompanying them. We have a real rockin' band, with great singers and world class musicians.'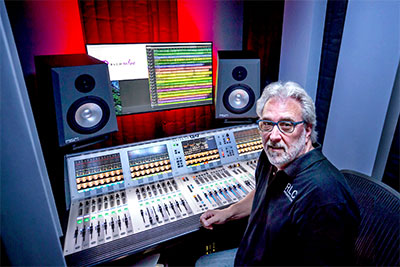 Led by lead pastor Rusty George, Real Life Church Ministries can be found in LA's nearby Canyon Country, Simi Valley and Valencia, as well as commanding a large online community. Just as the coronavirus was taking hold, Watkins was putting the final touches on the church's new broadcast mix room, featuring Ocean Way Audio monitors, at the church headquarters near Los Angeles.
'That's when we realised that for the time being, our presence was solely outside of our church buildings,' Watkins continues. 'Basically, the heavy lifting will be our audio mix that goes out to our guests. During performances and services, we have an isolated feed into that mix room, with an engineer mixing for our online presence, for our broadcast presence, and for what's recorded for anything in the future. We were looking to be able to mix quality audio and gauge that mix on a great set of monitors, which took us down the path to the Ocean Way Audio Pro2As.
The monitors provide an efficient distortion-free dynamic range in a distinctive trapezoidal profile. The cabinet features a sleek design with attention to time alignment, reduced baffle reflections and materials designed to minimise low frequency resonance. Its port is optimised to increase the woofer's low frequency extension and sound pressure level capacity.
'Our room itself is relatively small and we were looking for a set of monitors that weren't 10ft tall,' Watkins says. 'We wanted monitors that could push a lot of air, that sounded good at the top, sounded good at the bottom, and everything in between. The Pro2As do that. Our mixes sound great in the room, and they do what they are supposed to do -- translate well and sound great outside of that room.
'Technology reflects what we value as a culture and because we also value engagement, technology can facilitate that. It is possible to foster deep and lasting relationships from our online presence and we encourage our guests to do so through our web presence and various social media activities.'
The Pro2A's two-way, self-powered design allows flexibility in room placement with a uniform frequency response of 35Hz to 25kHz, and 110dB maximum SPL between channels. The room response controls allow for adjustments to varying acoustic environments. The speaker allows the listener to hear a natural, open and accurate image.
'One of our regular players just got off the road with the Jonas Brothers,' Watkins says. 'We've got professional players who make a their living playing outside of our church environment. We value our culture, and good music is a big part of that. It's loud, it's slamming, and we put the Pro2A through its paces. They don't even break a sweat. The Pro2As are absolutely far exceeding any of our expectations. And honestly, it's been a joy dealing with the company, and dealing personally with [Ocean Way founder] Allen Sides, as well. He's got a great team.'
See also:
Ocean Way Audio Pro2A
More: http://oceanwayaudio.com