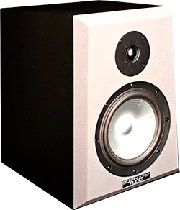 Adapted from the hi-fi designs of Director of Engineering, Bruce Marien, and re-focused for the studio mixing environment, the Pro2A is the second close-field studio monitor from Ocean Way Audio (OWA).
The Pro2A is a two-way active trapezoidal design, handling frequencies from 38Hz to 22kHz delivering with an SPL of 110dB. The cabinet features a sleek design with attention to time alignment, reduced baffle reflections and materials designed to minimize low frequency resonance. Its port is optimized to increase the woofer's low frequency extension and sound pressure level capacity.
Pro2A's HF driver is a high definition silk fabric dome with excellent mechanical linearity. The LF driver is a geometrically reinforced aluminum cone with a vented cast aluminum chassis yielding optimum strength and low compression. Combined with the cabinet, the system offers minimal reflection, high resolution and low listening fatigue over the entire audio spectrum.
More: http://oceanwayaudio.com