US producer/engineer and owner of NRG Recording Studios Jay Baumgardner has installed new Ocean Way Audio (OWA) monitor systems in his LA studio complex – dual-subwoofer HR2EX towers in his Moroccan-themed Studio B and dual-horn HR 3.5 reference monitors in the Studio C mix room.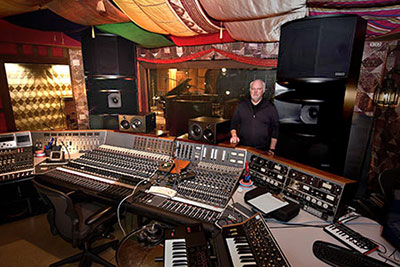 Baumgardner has been responsible for numerous hit records spanning more than 20 years. With a lengthy history of making and breaking new and up-and-coming artists, he has also crafted hit songs from both established and upcoming bands. Vintage King audio consultant James Good NRG oversaw the integration of both Ocean Way Audio monitor systems.
'I've known Ocean Way Audio founder Allen Sides for years and have worked extensively in rooms with his speakers,' says Baumgardner. 'We first listened to his new monitor systems over at his showroom and were so impressed we set them up at my studios alongside my existing monitors and they just blew us away.
'Our previous monitors were from the 1990s and speaker/amplifier technology has really evolved since then,' he continues. 'We still have rock clients, but we also have R&B acts, hip-hop and a lot of film dates. We needed more power to satisfy clients who demand a really big sound. Ocean Way's amplifier technology is impressive, and powerful enough to drive these big cabinets.'
NRG Studio B was conceived with a Moroccan theme and the live area has a ceiling height of more than 20ft. The control room resembles a Bedouin tent centred around a 'wrap-around' Neve 8078 console that was sourced in Austria, purchased from Allen Sides, and which has undergone a number of significant modifications – no fewer than 24 mic preamp/EQ 1073 modules have been added to the monitor section for a total of 64 input channels.
Studio B now features the HR2EX three-way tri-amplified system, which includes Ocean Way custom electronic equalisers, with the crossover tuned and aligned by Ocean Way Audio's team. Both towers feature 18-inch subwoofers on top and bottom. 'I've always wanted a speaker so massive that it could topple over and crush someone,' Baumgardner quips.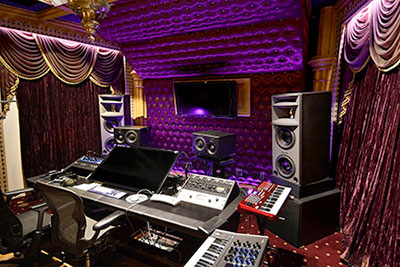 NRG's Studio C has features carved oak and was designed primarily as a mixing suite with a Slate Raven MPZ console. The studio also holds a prized gear collection, including UREI 1176, Teletronix LA-2A and Neve 2254 compressors and API, Avalon and Chandler Limited EQs. Ocean Way's HR 3.5 reference monitors are now tuned and installed.
Studio C's monitors have a frequency response of 20Hz to 22kHz and SPL of 120dB. The speaker incorporates an integrated two-way dual-horn system with l-inch HF and 8-inch MF drivers, mechanically time-aligned with twin 12-inch sub-bass drivers per channel. A-4100 amplifiers provided by OWA power the speakers with both analogue and digital inputs, 96kHz and 24-bit sampling, and tri-amped delivering 3.4kW/channel of power. At the heart of the acoustic design is OWA's dual/hybrid waveguide system.
'These HR 3.5s are excellent sounding monitors and they're perfect for Studio C,' Baumgardner reports. 'This is where I mix, but we also have a wide range of other work done in here. Stuart White mixed Beyoncé's Lion King here, and we also do a lot of hip-hop tracking – the sound has got to be really big these days. These monitors are not only loud, but they are tight and punchy, but with a really smooth overall sound.'
See also: