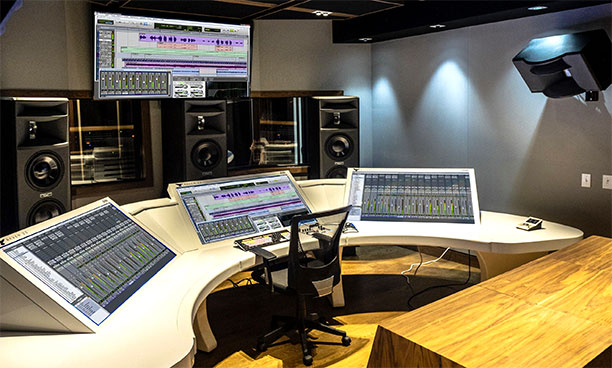 With design by the Malvicino Design Group and Ocean Way Audio loudspeaker systems for stereo and 5.1 monitoring, Invite Only Studios has joined New York City's recording scene.
While Studio A is centred on a 48-channel SSL Duality mixing console, Studio B has as its centrepiece a custom Slate Raven Z3C MTX console, the only one of its kind in the world. Studio C functions as a writer's room and boutique project studio with iso booth.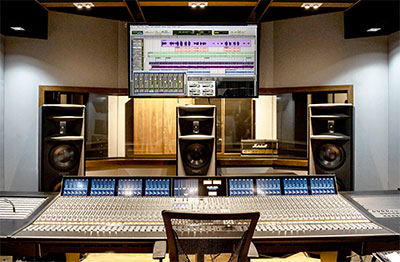 Both Studios A and B feature full Ocean Way Audio 5.1 surround monitoring with three HR3.5 speakers in front and two HR4 speakers in the rear channels. A-4100 amplifiers power the monitors with both analogue and digital inputs, 96kHz and 24-bit audio, tri-amped delivering 3.4kW/channel of pure power. At the heart of the acoustic design is OWA's geometrically complex, composite dual/hybrid waveguide system. Germany's Sommer Cable was used throughout the studio and in the OWA monitoring system.
'We have a very demanding clientele working on all genres of music from classical to hip-hop,' says Invite Only producer and founder, Angelo 'Doc' Velasquez. 'Horacio [Malvicino]'s design and his integration of these monitors into our studios is a very dynamic combination. Every producer, engineer and musician who has come through has remarked on the quality, the clarity, and the sheer power of these speakers.'
'Doc made it clear from the beginning that they like high SPLs and a smooth low-frequency response,' says facility designer, Horacio Malvicino. 'Ocean Way's HR 3.5 monitors are extremely powerful, and the addition of the subwoofers gave the added desireable low-end punch. The greatest challenge in the acoustic design was to achieve total isolation between the two adjacent studios and also from the other tenants in the building.'
Mix engineers who prefer an 'old school' workflow are availed of analogue mixing features and DAW control via the console. On hand is a variety of traditional and boutique outboard gear from industry leading manufacturers from Manley, Avalon, Pultec, Universal Audio and numerous others.
Studio B features the Raven console's batch automation technology, giving quick access to in-the-box efficiency. Studio C functions as a writer's room and boutique project studio with iso booth, and offers key pieces of outboard gear to complement its SSL AWS 948 console for a unique experience overlooking midtown Manhattan. Monitoring includes Ocean Way Audio Ultravoice amplifiers and voicing modules. Sommer Cable is used both internally for the cabinets and also from the amps to the cabinets, respectively Elephant Robust SPM440 cable and SC-Twincord cable.
'We're using Sommer Cable's Mistral Multicore cable throughout the studios,' Malvicino adds. 'It's amazing that this cable can actually run analogue audio and digital audio, so when I'm wiring a facility I don't have to worry about using separate analogue or digital cable runs.'
Invite Only includes three recording/media Studios, a 12.5ft Cyclorama Wall, a 14ft bar, full kitchen, VIP Room with a flight simulator, zero gravity massage chair, 100-inch media screen and event space that can accommodate approximately 100 people.