While the performance itself only lasted approximately 14 minutes, this year's Super Bowl Halftime Show at Hard Rock Stadium in Miami Gardens, Florida, was broadcast to an international televised audience of more than 100m. Jennifer Lopez and daughter Emme Muñiz performed together using Axient Digital ADX2FD wireless systems and customised KSM8 microphones, while Sennheiser's Digital 6000 was the system of choice for headline performer Shakira and special guest, Bad Bunny.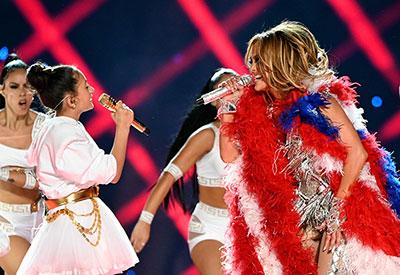 'This is not a traditional concert environment where you can put antennas out on the side of the stage where they are relatively close to the performer,' observes Gary Trenda, Lead RF Technician for Professional Wireless Systems (PWS). 'We deployed antennas on the sidelines and aimed them at where the stage was going to be; then we used an RF-over-fibre system to connect back to the receivers, which were in a rack room under the stands.'
'For the third year in a row, we relied heavily on Shure Axient Digital Wireless Microphones for the Super Bowl Halftime Show,' says Professional Wireless Systems (PWS) Lead RF Technician Gary Trenda, who handled wireless microphones and IEM systems for the pre-game, halftime entertainment and referee. 'We used the system's Frequency Diversity and Quadversity capabilities to deliver the reliable wireless audio this event requires.'
The ceremonies began with Yolanda Adams singing 'America the Beautiful' with Shure's Axient Digital ADX2 and a Beta 58A. Demi Lovato, in her second performance on back-to-back Sundays after appearing at the Grammys, gave a rendition of 'The Star Spangled Banner' with Axient Digital ADX2FD and an SM58.
Columbian-born rapper J Balvin joined the stage at halftime sporting an Axient Digital ADX2 with a KSM9HS microphone capsule. In addition, 164 Shure P10R Diversity wireless bodypack receivers for in-ear monitors were used during the halftime show as well.
Lopez, a Shure endorser since 2016, and her daughter Emme used Axient Digital ADX2FD with customised KSM8 microphones. Emme sang with a gold mic and Jennifer used a custom crystal silver mic as well as a second custom crystal black Shure KSM8 to coordinate with her wardrobe change.
For this performance, wireless receivers are placed at a greater distance from the performers than for a typical rock concert, since the stage is temporary and must be disassembled after just 14 minutes. As such, the wireless must perform flawlessly – despite not having the advantage of close proximity to the stage. 'In a show like this, reliability is critical,' says Trenda. 'We've got to pick up the signal at a longer distance, and it really needs to be rock solid.'
For Shakira and Bad Bunny, the RF team deployed four channels of Sennheiser Digital 6000 wireless – three separate mic channels for Shakira, and one for Bad Bunny. Shakira sang several songs through a gold sparkled SKM 6000 handheld transmitter and MD 9235 dynamic cardioid capsule, before being joined onstage by Bad Bunny, who also sang through an SKM 6000 – coloured in neon yellow, coupled with a red MD 9235 capsule.
'This is my second Super Bowl using Sennheiser digital systems, and our experience has been that even in a crowded RF environment, it is a very reliable microphone system,' says Trenda. 'In the stadium area alone, there are probably 500 frequencies of mics and IEM-type systems – so we are really looking to zero in on the mics we care about and filter out anything else. This is why we applied 6MHz cavity tuned filters in front of the Sennheiser receivers. The filters are tuned specifically to the frequencies we were using for that pair of microphones.'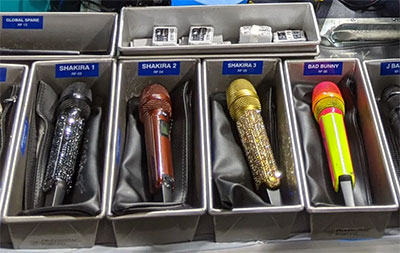 With 23 Super Bowl Halftime Shows under its belt, preparation is key for ATK Audiotek. Among many other activities that take place, a site survey is conducted around September in which a crew is dispatched to examine the local RF environment. RF coordination is done by the NFL Event Frequency Coordinators (EFCs). Lead EFC Loren Sherman assigns frequencies for the Halftime Show so every dimension of the performances can be carried out.
The crew loads in a week and a half prior to game day, and then crews are allocated time for on-field rehearsals. This year, ATK and PWS ran through full rehearsals of the Halftime Show three times – each time carefully scanning the RF environment to ensure smooth operation.
On a scale of programming such as the Super Bowl, RF crews inevitably face last minute challenges – in this case, the performers' preference to use aesthetically stylised microphones had to be reconciled with transmitters aligned to the right frequencies. Trenda explains: 'We had a blinged out black microphone, one that was painted a metallic red, and another that was blinged out gold – but the transmitters were in a frequency range that we were not able to use at the Super Bowl. So, we called Sennheiser and they were able to send handheld transmitters in a range that was exactly what we needed for the show. We then swapped out the blinged out shells onto entirely different transmitters. The support from Sennheiser was fast and dependable.'
'We've done many shows with the Sennheiser Digital 6000, and it is a product we trust,' says ATK Audiotek General Manager, Brett Valasek. 'We were very happy that both Shakira and Bad Bunny were using the Digital 6000s – we are very pleased with its RF strength and audio clarity. With respect to our transmitter frequency challenges, we are very pleased that Sennheiser was able to support us through the process.'
Fox Sports' pre-game, halftime and post-game shows also called on 20 channels of Shure Axient Digital. With difficult RF conditions in Miami, Axient Digital allowed many wireless channels to coexist within a single TV channel of frequency availability. This enabled the event to also operate 22 channels of Shure PSM1000 in-ear personal monitoring systems. Using Wireless Workbench, the audio team was able to closely monitor all of the gear throughout the entire programme.
The match referees were equipped with Shure's newest line of premium subminiature microphones, TwinPlex, which were launched after last year's Super Bowl. The TL47 model was used with ADX1 with ShowLink in bodypack frequency diversity. The sideline interview mics used by Erin Andrews and Chris Myers were powered by Shure Axient Digital with Quadversity, a patented technology leveraging four simultaneous RF inputs to feed a single RF channel.
'The versatility of the Shure Axient digital and analogue units were an integral part of our pre-, halftime and post-game shows in a very hostile RF situation,' says Soundtronics Wireless Lead RF Technician, Chris Eckert. 'The use of interference detection mixed with real time frequency hopping made a sticky situation into a breeze. Alongside with the PSM 1000s range and clarity to cover all the walks that talent had to do on this constantly moving show to ensure they had IFB coverage wherever they went.'
CP Communications, a leading provider of live event broadcast production solutions, managed the sideline microphones for the Super Bowl, as they have for the majority of FOX, CBS and ESPN NFL coverage. This also included field effects audio, such as parabolic dishes. They also used Axient Digital for NFL Network at Opening Night on South Beach and at the stadium. Loren Sherman managed RF coordination for the various activities.
Shure also played its part in NFL broadcast events leading up to the Super Bowl, including the AFC Championship game press conferences and the NFL Honors special. For the AFC Championship game, Freeman provided 64 channels across multiple rooms of Axient Digital, and 20 channels of Axient Digital, four channels of UHF-R and eight channels of PSM 1000 for the NFL Honors broadcast.
The Halftime Show mix...
With a custom JBL PA system comprising 18 carts on the field and 14 flown line arrays, a pair of DiGiCo SD5 consoles were used at FOH, and a pair of DiGiCo Quantum 7 desks at monitors to provide the mixes. 'For me, the SD5 is still the fastest-workflow console ever,' says ATK Audiotek Project Manager Alex Guessard, who mixed the show alongside Rolling Stones' long-time FOH engineer, Dave Natale. 'I set the two SD5s up so that we had mirror images of both the worksurface and one console as the A Engine, so in the unlikely event that we had a failure on one console, the other was ready to run seamlessly.'
The show made good use of the SD5's input capacity, which Guessard says managed 60-plus input channels, including vocals, instruments and Pro Tools outputs: 'It was flawless, and the SD5 is so easy to configure,' he elaborates. 'For instance, I used the assignment buttons on the left of the screen to toggle between the head amp, filters and auxiliary, and the moves were quick and easy under pressure.'
The event's Dante network was 'fed from the Madi on the consoles, and signals were eventually routed via AES to the amplifiers', Guessard explains. Each console also had two DiGiCo SD-Racks of its own, allowing them to operate independently.
In monitor world, Tom Pesa and the monitor crew had to manage upwards of 150 wireless beltpacks for vocalists, musicians and dancers. He also used two consoles, both of which were Quantum 7 desks. They began working on the show at two rehearsal locations – one offsite and one onsite – which necessitated the need for two consoles to be available as the complex production came together. Once the show was ready, Pesa, like Guessard, kept the second desk online as a backup.
'Instead of having the B Engine as the backup on one console, we had an entire second console as our mirrored B Engine,' explains Pesa, who was working his 24th Super Bowl Halftime Show. 'It's overkill, but it's the Super Bowl.'
The output of the console went to a combination of in-ear monitors – 120 of them for dancers alone, who rely on them for click tracks and cues – and to a dozen ATK Audiotek LM3 wedges around the stage. Pesa says the Quantum 7 managed all of that using only onboard processing. 'I lean heavily on DiGiCo's onboard processing; I almost never need external processing, especially since Quantum came along,' he says. 'That gives me so many onboard options for limiters, compressors and EQ, and I can easily customise each snapshot for each artist as each pass goes by. There's so much available to let you make each artist sound exactly the way you want them to. It's all just there at your fingertips.'
The Quantum 7's assignability was also called upon, as Pesa was able to set up a separate section of the console for Ramon Morales, Shakira's monitor mixer. 'I could literally create an entire section for him with Shakira's inputs for vocal channels and effects returns, and any other control group needed to lay down as a VCA to control her Pro Tools level, all in one bank,' he explains. 'So I could do what I needed to on my side of the console and Ramon could have everything he needed laid out right there in front of him. The Quantum is a big leap forward and I'm really impressed with how many new features there are with the new firmware, like Mustard. The console just keeps getting better.
'It's all over so quickly,' Guessard reflects. 'We had six minutes to get ready as the football players were leaving the field and the stage was coming together, then a 12-minute show, then six minutes to get ready before the teams came back. It's a huge adrenaline rush no matter how many times you've done it, and it takes an insane amount of coordination. You need the tools you're using to be perfect, and that's what the DiGiCo consoles are – perfect.'
See also:
Super Bowl LIV audio networking from ATK