The Broadway production of American Utopia, a new theatrical concert from former Talking Heads frontman David Byrne is in residency at the Hudson Theatre. Based on Byrne's seventh solo studio album, American Utopia (released in 2018) and additional songs from Talking Heads, Byrne fronts the production and shares the spotlight with an ensemble of 11 musicians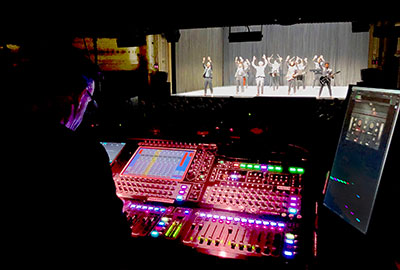 Handling FOH sound is Peter Keppler: 'My set-up for this production is a DiGiCo SD10 with Waves MultiRack, SoundGrid Extreme Server and a Mac Mini with a Dell touchscreen,' he reveals. 'My go-to Waves plug-ins are the PSE [Primary Source Expander], which I use on all 12 vocal channels to help control drum and percussion spill from our six drummers on stage. Works amazingly well to clean up the mix. I place the F6 Floating-Band Dynamic EQ on all the vocal channels directly after the PSE in the rack as a dynamic EQ, and on one of the electric guitars for dynamic tone-shaping.
'The PSE and F6 on vocals are amazing. I have so much drum and percussion information on a relatively small stage with 12 headset vocal mics, and everybody is wireless and constantly on the move. It could be a nightmare for spill into the vocal mics. PSE really helps with that, especially using the filter on the side-chain allowing me to isolate the vocal frequency range and keep any high-frequency spill from cymbals and percussion and the low frequencies of the drums from triggering the soft gate on vocals. I've never been able to gate vocals as effectively before... I don't lose anything except the spill I don't want.
'The F6 as a dynamic EQ has become a go-to for almost every live vocal I mix – it gives me so much more usable gain on the voices, especially when people are singing quietly, and it does a beautiful job of compressing only the spots in a performer's vocal range or peaks in the mic's response that really need it. It has also become a staple in the studio for me as well.
'Another favorite is the Waves Abbey Road Reel ADT, both the stereo and mono versions, since it's the best doubler/thickener out there for lead and backing vocals, and for some great guitar effects,' he continues. 'I use the J37 Tape for slap echo and also as a doubler. It has great features like saturation, wow and flutter and various tape formulations that add harmonics and a little dirt. It sounds amazing. The H-Reverb Hybrid Reverb is great for longer reverbs on vocals, drums, and instruments and for a gated snare reverb on a handful of songs as well. I use the H-Delay Hybrid Delay (send/return) for vocal and instrument delays, stereo ping-pong style and mono delays and the NLS Non-Linear Summer Input and Buss for drums and bass. It enables me to change the sound of the drums with one click and it is great for adding harmonics and a little grit to both bass and drums.'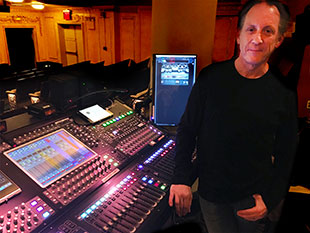 Keppler relies on the Waves MultiRack software host that hosts multiple, simultaneous instances of Waves plug-ins used in recording studios and mix rooms: 'One of the main benefits for me is the portability,' he says. 'I can work on many different live consoles and carry the processing from one to the next with no more than a USB stick. I've also found that I can tweak reverbs and other effects while I'm in the studio and am able to listen critically, then store those as presets to use in a live situation if I want.
'Setting up processing chains is super-easy and changing the order within a rack is just a drag-and-drop process. Snapshot recall is possible from rack to rack and also for the individual plug-ins within the rack, which for this show is absolutely critical. Also, the GUI is very intuitive, and features such as mono-to-stereo and input/output are quick and save console DSP. Furthermore, the fact that it runs in pretty much every console available is awesome.'
'Most digital consoles these days come with decent-sounding effects engines, but the selection of various types of processing is usually quite limited. Waves has such a wide array of truly great-sounding plug-ins, and especially some of the harmonic enhancements and distortion plug-ins that just can't be found onboard most consoles. Most Waves plug-ins have little or no latency outside of the server itself, which is extremely low to begin with. Having a separate screen dedicated to those plug-ins is a huge plus, too.'
More: www.waves.com