Helsinki's new Finnish Music Hall of Fame has opened its doors on exhibition space profiling more than 200 Finnish artists and composers and incorporating leading A/V technology combined with Virtual and Augmented Reality. The sound throughout the venue is delivered by more than 120 Genelec 4430 Smart IP loudspeakers.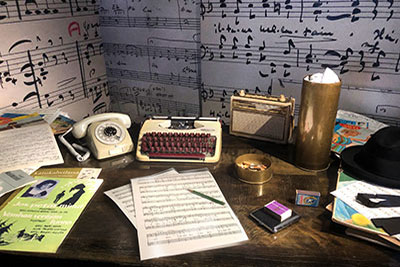 'They asked why there was no music museum in Finland because, in all other Nordic countries, there are museums focused on entertainment,' says Hall of Fame Museum Director, Mikko Vanni. 'Actually there is one in Turku, the Sibelius Museum, which is dedicated to Jean Sibelius' work – but our aim was, from the very beginning, to make a museum for all music.'
Vanni was speaking at the official launch of Genelec's 4430, which took place at the museum in front of an invited audience of international installers and integrators. 'When Smart IP was announced, we knew instantly that it offered the perfect solution for the Hall of Fame,' says Santtu Sipilä, Head of Installation at top Finnish integrator Bright – the company that undertook the A/V installation. 'We were already familiar with Genelec's outstanding audio quality and long-term reliability, so to be able to integrate every 4430 into the system via a single CAT cable made the whole process of installation and configuration incredibly straightforward, yet provides us with amazing levels of control.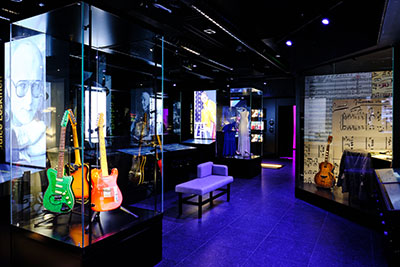 'We have set out to help make the Music Hall of Fame a new global benchmark for quality content and user experience, and Genelec's Smart IP technology has played a key role in allowing us to realise that goal.'
The Finnish Music Hall of Fame can be found in the Mall of Tripla – actually, it can be found twice… 'If you look at it from outside, the museum appears to be a separate building but if you come from the mall, it appears to be part of the mall,' Vanni says. 'It is the largest mall in the Nordic countries when we count the number of shops – more than 250 – and it also has Helsinki's main railway station and 430 apartments. It is a huge city, really. We expect it to attract more than 40m visitors annually, and more than 100,000 daily – there were over two million visitors in the first ten days. So it is a really fantastic place to have the museum.'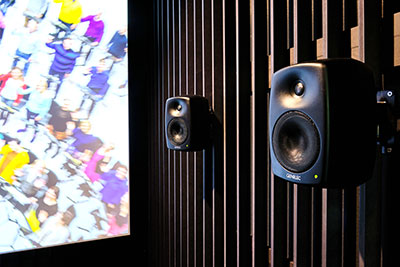 Inside that fantastic place is 'a multisensory experience for all music lovers, covering genres from three centuries – from symphonies to Finnish rap music to folk and heavy rock among many others'. And, true enough, you will find Finland's top musicians, conductors, rappers, bands and folk musicians represented. Everyone from symphonists to hit musicians, from the 1890s to the present day is here, having been chosen by a committee representing the most important music organisations in Finland.
Those 120 Genelec loudspeakers are among the first to be installed, along with a couple of other spaces in Finland. Presently a showcase for the Finnish innovator's latest technology, the sound system will serve concerts, talks and workshops – the restaurant is home to a stage, and there is a performance space within the museum itself that is equipped with a virtual acoustic system (demonstrated at the 4430 launch with a live opera performance).
Smart IP provides scalable power, as well as audio and loudspeaker configuration, supervision and calibration via a standard Cat cable. For installations such as the museum, this means that their only connection to the audio network is a single Cat cable for audio, control and power – with class-D amplification capable of handling a dynamic music programme without compression or clipping.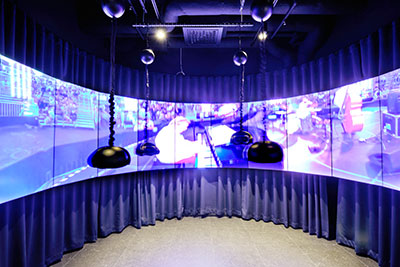 The 4430 AoIP implementation supports up to eight audio channels per stream, at sample rates of up to 96kHz and 24-bit resolution. The loudspeaker's 5-inch woofer and 0.75-inch metal dome tweeter, meanwhile, provide a frequency response of 45Hz-23kHz (-6dB) using Genelec's proprietary Minimum Diffraction Enclosure and Directivity Control Waveguide.
The artists celebrated in the museum include composer Jean Sibelius, conductor Esa-Pekka Salonen, lyricist Juice Leskinen, folk violinist Konsta Jylhä, king of the Finnish tango Olavi Virta and post-war jazzman Toivo Kärki. Also among them are symphonic metal band Nightfish – providing the stage for the Genelec 4430 launch to close with the presentation of a Genelec loudspeaker signed by the members of the band.
'Over the past three-and-a-half years, together with the help of our excellent partners – Genelec, the Ministry of Culture, the city of Helsinki, National City Museum and others – we have seen our ambition for the Finnish Music Hall of Fame come true,' Mikko Vanni reflects.
See also: