The 15-year relationship shared by Stage Audio Services (SAS) and the Shambala Festival in Market Harborough continued over this year's August Bank Holiday weekend but, as the festival coincided with the birth of system engineer/crew chief Nat Hopking's daughter Mila, colleague Phil Warwick received a crash course in Martin Audio MLA technology…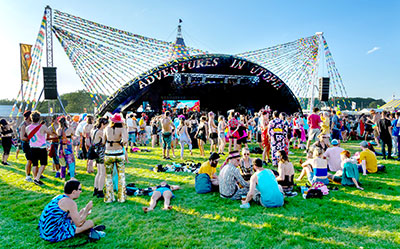 'I literally set up the system, put the presets into the Preset Loader and having done a training session, handed over to Phil at FOH,' Hopking relates. 'He picked it up really quickly and I was able to leave the site by 2pm.'
The same full-sized Martin Audio MLA used for last year's event was again deployed, and Martin Audio's Display optimisation software proved extremely intuitive in Warwick's hands.
During the daytime there may only be several hundred people present for the early family entertainment but when the headliners appear the arena is full. 'So we set the presets in 10m increments of 60m, 50m and 40m throws, although the full size MLA will throw over 200m, which is mental,' Hopking explains. 'The size of the crowd at any given time dictated the preset he used.'
As with last year SAS fielded eight elements of MLA per side, this system having taken over from the smaller MLA Compact the previous year. 'I loved the MLA Compact but for a large outdoor festival, there is a superior low-mid response in the larger system.'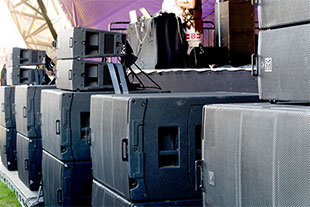 Ten MLX subs in five stacks of two, firing forward, were spaced across the front, with 1.2m space between each. On stacks 1, 3 and 5, pairs of MLA Compact were placed to provide lip fill. As for the optimisations, presets complied with the measurements set by site acousticians SPLtrack.
'As we were in a wide-open field there was no need to use Hard Avoid other than at the stage,' Hopking continues. 'This provides such good rear cancellation and you can get so much gain before feedback by using the Hard Avoid setting and using Martin Audio's multicellular technology as lip fill.' He said the organisers were once again delighted with the quality of the sound. 'There have never been any issues with the sound since we have started using MLA,' concluded the SAS man, whose crew also included Chris McGuinness at the stage end.
As for the event itself, which saw around 15,000 people on site each day, promoter Kambe Events, continued its policy of being an ethical, family friendly event and as environmentally sustainable as possible for the audience and 200 or so diverse artists.
MLA is now not only established at Shambala, but SAS recently converted another boutique festival to MLA. Run by dairy farmer Peter Nosworthy, Nozstock: the Hidden Valley takes place on his farm in Bromyard, Herefordshire (the theme this year being 'Wizard of Noz'). 'Thanks to me MLA was on duty at Nozstock for the first time, and it was a massive success,' Nat Hopking reports. The festival featured a number of dance-based acts, including Rudimental and Soul II Soul. 'In fact we were operating the PA at 105dB for Rudimental, which sounded amazing,' he reports.
See also:
SAS raises stakes for Shambala Festival
More: www.martin-audio.com