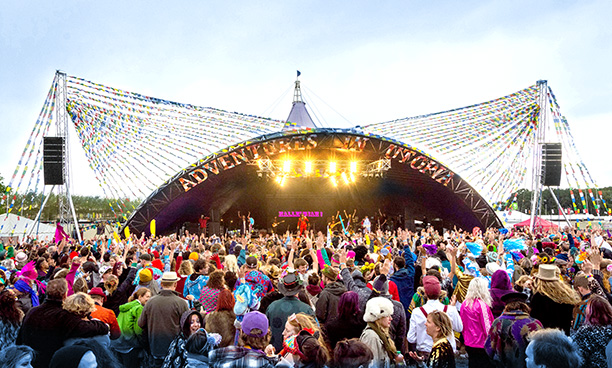 Having used its Martin Audio MLA Compact at last year's Shambala Festival, Stage Audio Services (SAS) invested in a full-sized MLA in time for the 2018 event, which took place over the four day Bank Holiday weekend.
The system arrived literally as the truck was being loaded, recalls SAS MD Kevin Mobberley, whose company has worked the UK event for well over a decade. 'It provided us with a fantastic amount of headroom and ensured we didn't need delays.'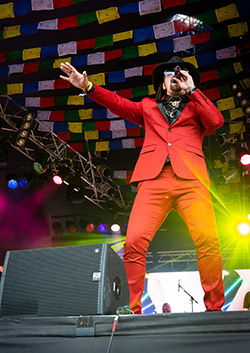 While Martin Audio Product Support Engineers, Simon Purse and Ben Tucker provided onsite support for the new system, it was left to SAS System Tech, Nat Hopking to articulate MLA's standout characteristics.
'The system, including the subs, sounded really clean, and the intelligibility and detail were outstanding,' he reports. 'This was especially important for eclectic world music events such as this, with so much unusual instrumentation requiring definition.'
Hopking was supported on site by fellow crew members, Matt Wickens and Phil Warwick.
For this year's festival, which hosts a daily maximum capacity of 15,000 at the remote rural site outside Market Harborough, SAS replaced the 12 MLA Compact per side of last year, with eight MLA per side. This was further augmented by left and right stage stacks of four MLA Compacts to ensure even coverage across the wide stage. Ten MLX subs across the front of the stage boosted the LF with four DD12 spaced on top of the line boosted near field coverage.
Promoters Bristol-based Kembe Events, extended its policy of being an ethical, family friendly event by keeping the event meat and fish free, and as environmentally sustainable as possible for the audience and 200 or so diverse artists, bands and DJs who played over the weekend. According to SAS the promoters were 'blown away' by the upgraded PA.
'With the acquisition of the large-scale MLA we are now firmly in the Martin Audio family,' Mobberley concludes. 'With the facility to run it alongside our MLA Compact as out fill, we now have an all the year round arena-sized system, and are already preparing for a busy Autumn season.'
Consequently, he says, it will enable SAS to expand its client portfolio.
More: https://martin-audio.com