Beyond the four Glastonbury Festival stages served by RG Jones Engineering with Martin Audio PA systems, there was a strong Martin Audio presence on the John Peel stage, The Park and Left Field, courtesy of SWG Events (SWG), which has been supplying numerous stages with sound and lighting infrastructure since 1995
For the John Peel stage, SWG sub-contracted elements of the audio supply to Martin Audio MLA partner Stage Audio Services (SAS), whose MD, Kevin Mobberley, upgraded to the full-size MLA for enhanced control, coverage and consistency.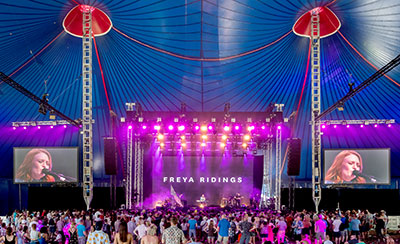 With design assistance from Simon Honywill, the main PA hangs comprised 20 MLA cabinets (ten elements flown each side) with 12 MLX subwoofers providing LF extension. Four of DD12s, positioned on the stage, focused the sound on the closefield, while further out fill was provided by six MLA Compact boxes.
SWG project manager Mark Bott explains that – being a televised stage – concessions had to be made to the BBC TV crew with regard to the sub positions, necessitating the MLX's to be divided into two stacks instead of being presented as a cardioid array across the front. 'It's really important the barrier line is as close to the stage as it can be to ensure a connection between audience and artist remains. It's this connection that the BBC is trying to capture and its as important for those inside the tent. Using all of the tools MLA offers ensures we get even venue coverage.'
The reason for choosing MLA had to do with containment, to avoid encroaching onto the main Pyramid stage, he continues: 'One of the considerations for MLA is that it meets the remit for noise control and we can deliver sufficient power inside the tent without breaching offsite constraints. The system also has to be rider compliant and this is a system that people want to mix on.'
This large circus like tent with a capacity of around 7,000 saw standout sets from the likes of Tom Walker, Freya Ridings, Bugzy Malone, Rosalia, Gerry Cinnamon, Interpol, Sean Paul as well as Mike Skinner's The Streets. 'The reports we had back from visiting sound engineers was that everyone loved working with MLA,' Mobberley reports.
Sitting high on the hill above Arcadia's Pangea looking down towards the Tor, The Park – conceived by top TV and event production designer Misty Buckley – is a treasure trove of welcoming, boundary-challenging venues and bustling bars, with a main stage hosting everything from breaking pop and indie acts to RnB and electronica, watched over by its rainbow-clad Ribbon Tower. What makes The Park unique is that it is curated by Emily Eavis each year.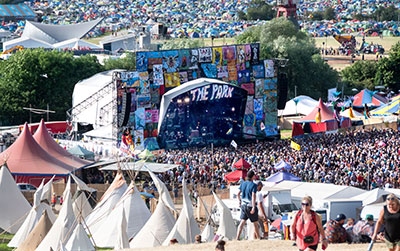 SWG has provided PA for The Park every year since its inception 11 years ago and having had a year off in 2018, The Park team has come back with many changes, new creations and locations. According to Bott, owing to the number of surprise 'TBA' acts that appear unannounced on the stage – this year including the Foals and Vampire Weekend – audience capacities can range 'from anything between 200-20,000, but we aim for between 4,000-6,000'.
This year, The Park stage featured a stellar line up, which also included the currently hot Idles, who brought their huge fanbase, Hot Chip, Cat Power, the Good, the Bad & the Queen, Lukas Nelson & Promise of the Real emboldened the audience to record levels.
Bott's team, including Ian Williams, who looked after FOH and system design supported by Tim Mitchell, deployed SWG's Martin Audio W8LC system, flying 12 elements a side, with two W8LCD Downfill boxes on each hang. These were reinforced with 16 WS218X subs similarly LR stacked to comply with BBC TV requirements. Martin Audio Blackline X8s were used as lip fill.
Bott had no misgivings about deploying Martin Audio's W8LC: 'Although it is an older system, like many older systems it is still very well received and well recognised. We received a lot of positive comments about The Park. There were no issues with any of the visiting sound engineers and [the W8LC] continues to impress.'
Because of the political nature of the Left Field stage, speech intelligibility is of paramount importance, 'and that's why we use W8LM as it handles speech perfectly', says SWG's Project Manager.
Headliners, KT Tunstall, Sam Fender and ever-present host Billy Bragg were provided with 16 W8LM (eight cabinets a side) with six WS218X subs (three a side) and Blackline X8 infill.
'SWG Events has had a really good year,' Bott summarises. 'Everything went smoothly and we had a lot of positive comments about the PA's. In fact, we never have any issues with rider delivery and performance with any of the systems we deploy from Martin Audio.'
'It's such a pleasure to see the pervasive nature of Martin Audio at this prestigious festival and I'm grateful to SWG Events and Stage Audio Services for delivering our signature sound, coverage, consistency and control for these three important stages,' adds Martin Audio MD, Dom Harter.
See also:
Case Studio: Glasto 2019
More: https://martin-audio.com