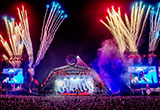 RG Jones Sound Engineering returned to the Glastonbury Festival following its fallow year with Martin Audio systems across four major stages.
With an MLA system again serving the Pyramid main stage as well as West Holts and the Genosys stage of Block9, Martin Audio's Wavefront Precision Longbow (WPL) made its festival debut on the new IICON stage featuring a 6.1-channel immersive surround-sound system designed by Simon Honywill.
The Pyramid stage bustled with electrifying performances throughout the three-day festival, with Stormzy followed up by a barnstorming performance by The Killers on the Saturday and rounded off by The Cure to close out Sunday night. In-between, the acts were their usual eclectic self with everyone from Sheryl Crow to Liam Gallagher, Janet Jackson to Bastille, as well as an emotional return for Kylie in the 'legend' Sunday afternoon slot.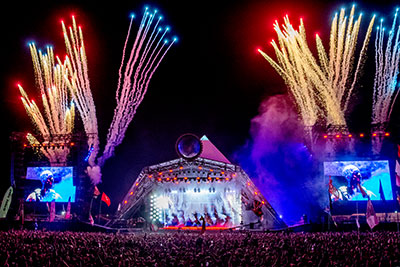 The system deployed on the Pyramid Stage was designed to maximise sound levels and even coverage for the 150,000 strong audience, while respecting offsite limits. A total of 72 MLA comprised the four main hangs with a further four MLA Compact arrays for in fill flown from the proscenium arch. Eight delay positions in an inner and out ring consisted of MLA and MLA Compact arrays to optimise coverage across the expansive field. A massive broadside cardioid array of 38 MLX subwoofers stretched across the entire width of the stage to provide sub-bass support and control .
Despite the sunshine that bathed the festival this year, the site is susceptible to windy conditions and this year was no different with the wind changing from all points of the compass. But again this was something the PA system was able to confine with ease. 'I expected the sound to get blown away in the wind but all the power stayed there,' reports Davy Ogilvy, FOH engineer for Tom Odell.
This was endorsed by Mike Timm, FOH engineer for George Ezra: 'I was really impressed with how it held up in the wind, it sounded great and the low end was good.'
Martin Audio's MLA enables very fine control of how each array covers its designated audience area. Acoustic cells housed within each cabinet are independently controlled by their own amplifier and DSP channel, a total of six in each MLA. This control allowed RG Jones to specify exactly what SPL and frequency response was required across the audience, with the intelligent software automatically controlling the array to produce that result. As Ben Milton, system tech, commented, 'This amounted to just a 3dB drop off over the 200m-plus long audience area, with even frequency response.'
The results overall were stunning, and for headliners The Killers, in particular, it was a resounding triumph. Kenny Kaiser, FOH engineer for The Killers, had nothing but praise. 'I've been touring with MLA for the last five years, but I've not had much experience with it outdoors and I was a little scared. But this system was phenomenal, everything was there, and MLA still has a very long lifespan in my opinion.'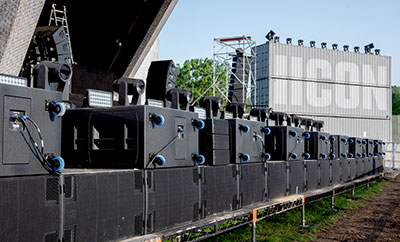 Meanwhile, West Holts enjoyed some performances from the likes of Lizzo, Janelle Monae, Jorja Smith, Wu Tang Clan and Jeff Goldblum, and thanks to an upgraded audio deployment those performances connected perfectly to the audience. This year, West Holts had 14 MLA per side, an out hang on house left of six MLA Compact and a house right out fill of eight MLA Compact which helped to extend coverage out to the Pathway to extend arena space. 21 MLX subwoofers in a cardioid pattern kept noise on stage to a minimum but chest pumping energy to the audience. Two hangs of 16 MLA Compact delays were positioned 95m from the stage and extended coverage for another 75m before tapering off sharply using Martin Audio's unique Hard Avoid feature to prevent sound spilling into market stalls. 'This was a massive improvement from two years ago, with better quality audio through the field and better containment as well,' offers system tech, Jack Bowcher.
This audio quality was further endorsed by Andrew Lorenzo, FOH engineer for Hollie Cook.
On Block9 – a collection of EDM stages – MLA Compact was again deployed on the Genosys stage, a massive, 70ft-high post-industrial piece of architecture draped with exotic plants and steaming tubes, at the centre of which was a DJ booth. Sean Hatton, system tech, described the set up.
'We've got 10 MLA Compact aside with six DSX subs either side of stage. Some of the issues of the site this year has been massive changes in temperature, from searing heat in the day to then very cold at night, but the snapshots that are easily uploaded in an instant without artefacts has meant we have been able to keep the coverage patterns we need. It's been great.'
The highlight of Block9 this year, however, was the breath-taking new IICONIC stage featuring a huge human head wrapped in a VR headset evoking the pervasive nature of technology on the human spirit.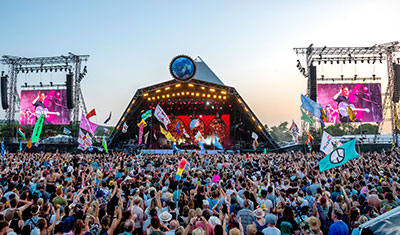 Described by Block9 co-founder Gideon Berger as 'a sinister monument to the terrifying realities of this digital, post-truth age that we find ourselves in', IICON is a mammoth 65ft sculpture of a head 'anonymised by a giant block that contains an LED wall entranced by the image of itself, and by the screens'.
The visual spectacular was matched by an audio spectacular with Martin Audio's WPL making its festival debut in a stunning immersive surround sound system designed by RG's Simon Honywill, Consultant Sound Engineer for the festival. WPL is Martin Audio's new large format optimised passive line array from the Wavefront Precision series. WPL offers an adaptable approach to optimisation of line arrays through Scalable Resolution where the user decides upon the number of enclosures with dedicated amplifier channels that are required for the coverage, consistency and control of the space.
'I thought that rather than just having this incredible structure and then just straight forward left right standard deployment, let's go a bit crazy and do it in surround sound,' Honywill says. 'So we had six hangs of ten WPL all pointing inwards with optimisation of the sound fields to maximise the experience through the space for a 15,000 crowd. A single 23m-long SHX218 sub array in a broadside cardioid pattern provided the thumping bass, but also control too. Each night there was a specially-commissioned presentation where the stage structure is projection mapped combined with 6.1 surround audio, which worked highly effectively. Then for the DJ sets we used a Trinnov Altitude 32 system to effectively up mix the stereo output to the 6.1 surround system and the results of that, were frankly outstanding.'
This was endorsed by Gideon Berger: 'This was an experimental design brief but we've been really helped by Martin Audio, RG and Simon who gave us demo suites to mix in, engineers on the ground to support, and the whole thing has been a pleasure to work with them.'
Summing up, John Carroll, Managing Director of RG Jones Sound Engineering, says: 'From headliners to all-night dance music, we are so pleased with the feedback from audiences, engineers and organisers to what we were able to deliver. My thanks also to Martin Audio who provided such unwavering support in the planning and execution this year and we can't wait for next year and the 50th Anniversary of Glastonbury Festival.'
'What sets Martin Audio apart is its signature sound that can faithfully reinforce the eclectic artists and musical genres that Glastonbury Festival offers,' adds Dom Harter, Managing Director of Martin Audio. 'Combine this with our unique technology that optimises sound coverage, consistency and control and we are able to unite massive audiences while respecting other stages and surrounding local residents. We are grateful to RG Jones for their continued faith and faultless deployment of our systems.'
See also:
SWG and the 'other' Glastonbury Festival stages
More: https://martin-audio.com