Following a similar move made by Capital Sound, Liverpool-based Adlib Audio has invested in Outline's Newton multi-source audio processor for loudspeaker management.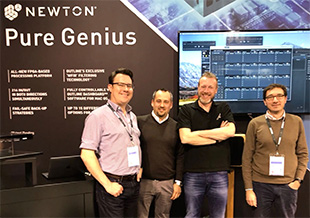 Combining new WFIR (patent pending) filter technology, multi-format audio signal routing, simultaneous multiple standard conversion and digital signal synchronisation in a single 1U-high chassis, Newton claims to be 'the next generation of networked audio system control'.
'I heard some chatter about Newton on social media, then investigated further on the Outline website and subsequently contacted James Lawford at CUK,' says Adlib Senior Engineer Ian Nelson. 'The Newton's 18×16 matrix and its huge amount of I/O possibilities are the major factors that attracted us to the unit, but the ASRC and SRC on each matrix input is also a big advantage. This, coupled with the multiple levels of input redundancy, is something we had been searching for a long time.'
'The unique thing about Newton is that we have struggled to find anything that can handle a relatively big matrix but operate simultaneously on multiple time domains, with automatic input redundancy fail over. There are devices that will do these things but generally not in one box – historically we have had to add a third mixing desk at FOH with a large I/O rack to be able to take input feeds from multiple consoles, but this ties up hire stock and also takes up space at FOH which is usually at quite a premium.
'Its immediate role will be as our festival matrix device but we see far reaching potential for Newton devices to operate as system processors, format converters and beyond. We have been beta testing a demo unit for around two months and the first outing in anger will be a big Scottish festival in mid-May where we expect to see multiple guest consoles, in addition to our own A&B system house consoles.'
See also: