Capital Sound Hire has further expanded its Outline loudspeaker inventory with the purchase of the Newton multi-role processor. The flexibility Newton lends the London-based company a new level of convenience and system integration possibilities fro professional applications throughout the audio industry.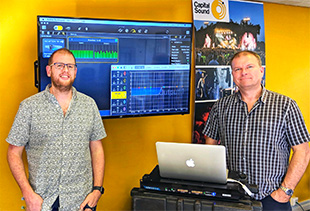 'We were introduced to the concept by the Outline team when we were buying into the Outline GTO C-12 system during late 2015 and early 2016,' says Capital Sound Operations and Development Director, Paul Timmins. 'We took an immediate interest and, having then followed its development over the last two years, we are incredibly excited we have received our first production units.'
'My interest was immediately piqued during my first introduction to the unit and the concept, then our internal team and some external staff saw it during our Outline array training at SW19 Studios,' adds Capital Project Manager Robin Conway. 'The right people in the room were immediately interested, at which point I knew it was a product we needed to add to our inventory.'
Capital sees Newton as a multi-use device to complement its system drives, as well as in other capacities, owing to its power and matrix capabilities.
'These units were bought as an option for our drive systems in general, as they have the ability to run all four brands of loudspeaker system presently in our inventory – however, there are so many elements to this unit that are of interest, not least that the platform, being FGPA based, will allow the unit to continuously grow during its life span,' Conway explains. 'Of specific interest to us is the ability to simultaneously run multiple audio inputs from various digital sources, including Dante, AES and Madi Coaxial. Seamless signal fall back across various digital sources is also a big deal for us as is the synchronous and asynchronous sample rate conversion.
'The internal word clock management allows the user to remain synchronous with whichever console is live, should they wish, the 18×16 matrix is going to be incredibly useful and the fact that all this is built in a 1U-high space just makes it even better. There are other devices that could do some or part of the same list of operations but here are none, to my knowledge, that can do them all.
'We are trialling the unit in a live environment on the Sam Smith World Tour,' Conway closes. 'We felt it was important to get the unit out there and begin to introduce it into the signal path over the course of the next few months. Further to this we are in the process of building some new drive racks to house the Newtons and these will be deployed during festival season with our Outline system before being rolled out, where appropriate, on touring projects later in the year.'