Currently marking its 50th anniversary since incorporation, Outline has completed a 'profound restructuring', which has included the appointment of a new management team.
The new organisation stems from the retirement of Giorgio Biffi from his role of CEO, which he carried in addition to his Head of Sales function, since the passing of founder Guido Noselli, whom he had joined in 1976.
'Giorgio has undoubtedly driven Outline's success on a worldwide scale during his 47-year tenure – which is why it wasn't exactly easy to find a suitable candidate to replace him', says Michele Noselli, majority shareholding partner together with his brother Stefano.
'It explains how we came to appoint not one, but two younger guys, as a team, in order to keep up with Giorgio's own pace, willing to grow Outline to lead tomorrow's technological challenge,' adds Stefano Noselli.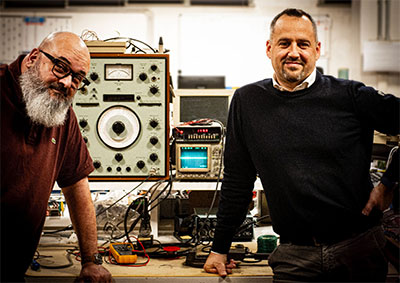 The Director of Sales' role has been assumed by Fernando Rey Méndez, who joined Outline as a sales engineer at the end of 2016, later also becoming Outline Newton's Business Development Manager and Sales Manager for the company's Test & Measurement Instruments division. A native of Buenos Aires but in Italy since his early teens, Méndez shaped his professional sound engineering skills with Italian musical theatre company Compagnia della Rancia, subsequently serving as start-up and commissioning engineer in the integration market for naval specialists Wärtsilä, Seastema and Videlio-HMS.
Industry-veteran Daniele Tebaldi will now lead Outline as General Manager, having cut his teeth as a sound engineer in mid-1980s, developing a keen ear to jazz and classical music after touring at FOH for Paolo Conte, then expanding his professional career to encompass technical journaliasm and copywriting, prior to lecturing in audio engineering classes, before 25 year at the helm of German manufacturer d&b audiotechnik's Italian subsidiary.
'There's a great opportunity beyond, and a hard lesson to be learned from, the changes that the world went through, in the aftermath of the 2020 Covid-19 pandemic', Stefano Noselli says. 'My senior brother Michele and myself reacted with a strong determination to pursue change in our business, which has to date pretty much remained the same family-owned, family-driven small company that our late father Guido started in 1973.'
'Celebrating Outline's 50th anniversary this year seems the perfect occasion to up the ante, by renewing our commitment to a brighter, stronger Outline for the years to come – turning change into a most powerful advocate,' says Michele Noselli. 'This isn't a farewell to Giorgio, as he remains a shareholding partner within Outline's board, though nonetheless this feels like the right picture, in which to frame our "thank you, Giorgio!" for his relentless drive of Outline's business.'
More: www.outline.it