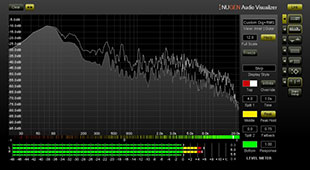 Nugen Audio has added support for 7.1 surround audio for the Xbox One console and the Audio Standards Working Group (ASWG) standard for PlayStation development to its VisLM loudness metering plug-in, addressing the specific requirement of the games industry.
VisLM provides standard-compliant measurement, comparison and contrasting of loudness during production, broadcast, postproduction and quality assurance – on the fly or after the fact, for entire sections of audio. With detailed, objective loudness measurement, history and logging facilities, VisLM supports ITU, ATSC, EBU and game audio standards to ensure loudness compliance for titles to be distributed virtually anywhere in the world.
'In addition to supporting channels recorded in 7.1-channel surround, VisLM now offers support for the VST3 plug-in format, improved routing in the stand-alone mode, and a new analyse/render option.
'The latest version of VisLM is a direct response to our Game Audio customers, who need high-quality audio tools as they begin to adopt 7.1 as a standard format for titles for the Xbox One and PlayStation 4 consoles,' says Nugen Audio Creative Director, Jon Schorah. 'Just as with broadcasting, these customers need the ability to distribute their products in every market while ensuring loudness compliance. At the same time, they want to ensure appropriate loudness in order to give users the most immersive, exciting audio experience possible. VisLM provides a highly visual and easy-to-use way of meeting both goals.'
The latest version of VisLM with 7.1 support is available as a free upgrade for current VisLM users.

See also:
Loudness Wars: Level Up (audio loudness in games)
Playing Games with Sound (games sound design)
More: www.nugenaudio.com