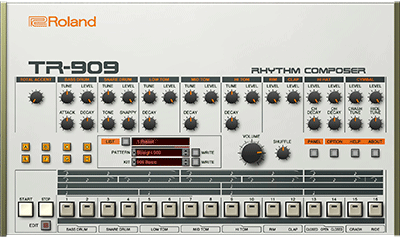 Following its release of the TR-808 Software Rhythm Composer, Roland Virtual Sonics has added TR-909 Software Rhythm Composer to the Roland Cloud service – offering authentic TR-909 sounds as a plug-in for digital audio workstations.
In 1983, Roland followed the massively influential TR-808 Rhythm Composer with the TR-909 Rhythm Composer. Desiring that their next offering sound more like acoustic drums, Roland took a hybrid approach that used analogue circuitry for the kick, snare, hi-hat, clap, and toms, and digital sampling for the cymbals. The result was one of the most beloved and influential musical instruments ever made. Although Roland only produced approximately 10,000 units, the influence of the 909 remains a driving force in music to this day.
Using Roland's next-generation Analog Circuit Behavior modelling technology, Roland has created a software adaptation of the original hardware circuitry that gave the TR-909 its distinctive sound, including its analogue/digital hybrid nature. In addition to detailed behaviour models of the analogue circuits, Roland has integrated the TR-909's original sample ROM.
The new TR-909 also comes modelled with the primitive (by today's standards) digital technology present in the vintage hardware, capturing the essence of the 909's cymbals and sound.
As with its predecessor, Roland has employed on the power and flexibility provided by modern DAW software combined with the feature set found in the original hardware. Each pattern on the TR-909 has eight variations, enabling artists to create evolving sequences. The classic 16-step TR-REC sequencer expands to include a sequencer lane for each drum instrument, providing fast and fluid programming. The sequencer has adjustable flams and sub-steps, enabling detailed fills and ratcheting sequences. Each instrument has its own 'last step' and shuffle settings, allowing flexibility with timing, experimentation with polyrhythms, and the ability to dial in just the right groove to meet the needs of modern creators' tracks. Music creators can drag patterns from the TR-909 directly into a DAW as Midi or audio clips.
The TR-909 Software Rhythm Composer also debuts new integration with Roland's recently released TR-8S Rhythm Performer. TR-8S users can send patterns from the hardware directly to the TR-909 plug-in, including pattern variations and names. Conversely, users can create patterns on the go with the TR-909 plug-in, and then send them back to the TR-8S hardware for performance or further production. The TR-8S also comes ready-mapped for direct hands-on remote control of the TR-909 Software Rhythm Composer's parameters, like volume, tune, and decay. A concurrent update also adds the same functionality to the TR-808 Software Rhythm Composer.
See also:
More: www.RolandCloud.com