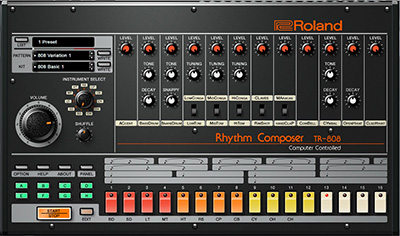 Roland Virtual Sonics has released the first-ever Roland TR-808 Software Rhythm Composer to the Roland Cloud service – a software reproduction of the TR-808 Rhythm Composer, available as VST and AU plug-ins for use in popular digital audio workstations.
Using its Analog Circuit Behavior technology, Roland has recreated the analogue circuits that are behind the TR-808's distinctive sound. Each pattern now has eight variations, allowing users to define evolving sequences. The classic 16-step TR-Rec sequencer can be expanded to include a sequencer lane for each drum instrument for faster and more fluid programming. The built-in sequencer has adjustable flams and sub-steps so that detailed fills and ratcheting sequences can easily be created. Each instrument has its own 'last step' and shuffle settings for atomic timing control, experimentation with polyrhythms. Patterns can be dragged from the TR-808 directly into a DAW as Midi or audio clips.
Roland Cloud is a cloud-based suite of high-resolution software synthesisers and sampled instruments, connected services and software for modern music creators. A global community of artists, creators and dreamers has easy access to a growing catalogue of legendary and new software instruments. The current musical ecosystem has been revolutionised to allow modern music creators and producers to connect to their sounds, their workflow, and each other.
'The team at Roland Virtual Sonics is overjoyed to add Roland's first official software TR-808 to the burgeoning catalogue of powerhouse instruments already available via the Roland Cloud service,' says Roland Virtual Sonics Co-Director, Jeremy Soule. 'The Roland TR-808 was responsible for shaping entire genres of music, and we can't wait to hear how it continues to do so in the future, especially now that it is more attainable than ever.'
See also:
Roland TR909 Software Rhythm Composer
More: www.roland.com