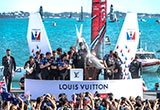 With the America's Cup sailing into Bermuda for its 35th edition, the Bermuda Broadcasting Company (BBC) was made official broadcast partner. Needing to accommodate video and commentary from the water, helicopters and from onshore, the BBC created an infrastructure based on a BroaMan fibre network.
The network covers the America's Cup Village at the Royal Naval Dockyard; the transmission, editing and news gathering hub; and the BBC's home studio facilities.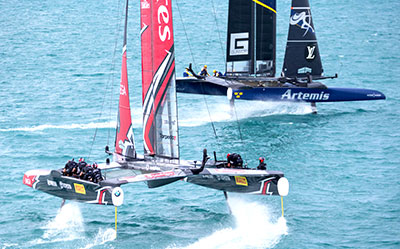 The network relied on a pair of BroaMan Mux22 interfaces, which connect the 35km distance between the two locations via a single duplex fibre. These support six video feeds (four HD-SDI in/two-output), line in/line out, four GPIO (with IC444 board) plus a 100Mbit LAN switch, RS485 and 1Gb Ethernet.
This has not only been used to provide viewers and listeners with live coverage of all the racing over the five weeks via terrestrial TV, but also radio broadcasts over IP, and feeds for web and social media platforms.
The event also forced a substantial upgrade at the BBC, including new TV and radio transmitters, high-speed fibre-optic systems and a fully digital workflow. But this was complicated when a lightning strike damaged playout and destroyed sensitive MCR automation equipment ahead of the Summer Olympics in 2016. Having competed in three Olympic Games and now on the International Olympic Committee's Athletes' Commission, Bermuda Broadcasting CEO, Patrick Singleton was quick to respond: 'We handle a lot of live sports and has developed a mobile application to show this important event, but it didn't solve the problem of terrestrial broadcasting,' he says.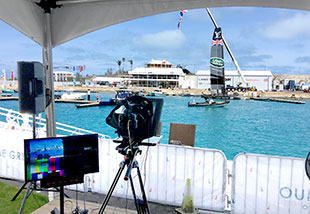 When seeking the optimum solution for the America's Cup coverage, Singleton had become aware of the BroaMan platform and its vast potential, after reading an interview with their MD, Tine Helmle on SVG Group's online resource. 'BroaMan had supplied a solution for the World Rowing Championships and I could see they were especially good at delivering sporting events,' he says. 'I wanted to create a remote broadcast facility at one end of our country and operate from a master control back at base, and BroaMan seemed like the perfect solution.'
The app that the BBC created after the lightning strike had aroused the interest of the American Cup organisers, who initially asked BBC to assist with their own app. 'This was the catalyst, but instead of building a mobile app we were then asked if we would handle their entire terrestrial broadcast feed so that the entire country could watch or listen to the races live on TV or radio – including all the spectators watching and listening live from boats on the side of the race course,' Singleton recalls.
The BBC had been looking at a level of implementation beneath BroaMan's Mux22, which combines different formats of video and data in a single fibre cable. It appeared that BroaMan's Repeat48 would suffice… 'Then the organisers told us it was no longer just TV they required, but radio as well, and they wanted a physical presence in the America's Cup Village, with DJs and live news,' Singleton says. 'And so the requirement changed. We needed to move to Mux22 as we were taking a large number of feeds direct from the America's Cup OB routed through the BroaMan platform.'
The amount of data and number of UHF channels to be transmitted was unprecedented for the BBC, with the HD-SDI signal entering the BroaMan domain and coming out over fibre to BBC's main studios. 'We have a 12km line off site but there is a fail-over redundant fibre ring that runs 35km that we had to plan for,' Singleton reveals. 'Once the signals arrive at our station, we play them out over our TV and FM transmitters.'
The BBC also sends the signals to local cable companies, and the live TV race feed is sent 14,000km by fibre to Asia where it's recorded and stored.
'Additionally the event organisers asked us if we could pass through our equipment a special broadcast feed that they were producing to one of the cable companies for delivery to Super Yachts,' Singleton says. 'This was made possible due to the flexibility of the BroaMan Mux22.
'In one instance we were doing some editing at the event village, and had a 3Gb file that we thought would take an age to send back to base – but it went in seconds. With BroaMan, large files can be sent very quickly and it went straight into our network storage. We were confident in the BroaMan technology and it has proved to be rock solid – it was German engineered so it had to be good.'
The 'rock solid' fibre network was co-designed with UK-based consultant engineer Mark Johnson from TTFN TV, with the aid of their new transmitters. An earlier concept of a wireless and microwave technology solution was dismissed due to interference and the threat of large ship masts cutting the point-to-point link. It had been Johnson's idea to use an Ethernet Audio-over-IP network, using the 100 Mbit LAN and 1Gb switcher for file transfer and remote control.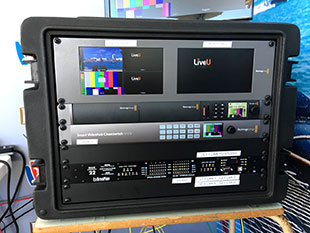 'The Telos Axia LiveWire provided the AoIP sub-network, linking video to the NewTek IP Series Video Mix Engine,' he explains.
Further expansion of BBC's remote mobile facility included the acquisition of a LiveU LU500 video field unit for OB transmission, while the purchase of IP switchers has been a further benefit in the broadcasters' systematic upgrade.
Reflecting on other challenges, Singleton says: 'The SFP transceiver modules also had to be right, which was difficult. In fact, the organisers tasked us with a lot more than we had initially expected.' This included IP cameras for security and monitoring the pit lane.'
Meanwhile, feeds to guest broadcasters from around the world, including NBC, BT Sport, Sky Sports, Canal+, Mediaset, RTVE, Eurovision were provided by the America's Cup authorities themselves.
This exercise marks a major technological change for Bermuda Broadcasting Company. 'Five weeks is a long deployment, and the BroaMan portable rack has been faultless – particularly considering we are operating in a tent that wasn't air conditioned rather than a dedicated postproduction facility,' Singleton says. 'We have been so impressed that we now feel the need to continue with it.'
But he also emphasises the necessity to access dedicated dark fibre in order to provide coverage, for instance, at dedicated cricket or football venues. 'We have been able to broadcast practically frame accurate, and our people are in awe of it. We've really shown how a legacy media company can up its game.'
Johnson was also unequivocal about the role played by BroaMan in the success of this year's America's Cup. 'The fibre solution has just fixed so many problems, it was like the genie out the bottle,' he says. 'As hardware enabling components, BroaMan provided the equipment in one neat box at each end – enabling us to do everything we wanted whereas previously it would have required half a dozen. It was such a neat solution.'
More: www.broaman.com