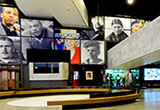 The new National Museum of African American History and Culture is the only US national museum devoted to African American life, history and culture. Since opening in 2016, more than one million visitors have experienced its exhibits, interactive exhibits and multimedia presentations.
It is part of the Smithsonian Institution, with acoustic and audio delivery designed by exhibition specialist SH Acoustics, at the request of Ralph Appelbaum Associates.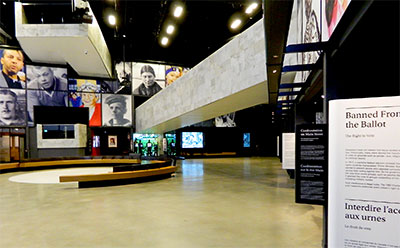 Delivering audio to tightly defined areas within large, open theatres required precise sound placement. Accordingly, SH Acoustics President and Principal Consultant Steve Haas adopted Renkus-Heinz Iconyx-series loudspeakers. The team also included engineering firm Electrosonic; museum systems specialists Design and Production, which handled fabrication, integration and installation; and content developers.
'The permanent exhibits in the museum cover more than 85,000-sq-ft, and include media programmes of all types – from large-scale to hundreds of interactive exhibits, smaller experiences, touchscreens and soundscapes' Haas explains. 'The spaces are enormous and we had to control sound in many overlapping areas, so we had to pull every trick we knew and some we couldn't imagine. Renkus-Heinz Iconyx loudspeakers gave us the beam-steering technology and high-end audio quality we needed.'
Sound for the videos is stereo rather than surround, because the gallery theatres are so open. 'We used tricks with delayed stereo to achieve immersive environments without leaking to larger areas,' Haas says. 'Renkus-Heinz Iconyx IC8-R-II and IC16-R-II loudspeakers were our choice for front programme speakers because we could use their beam-steering technologies to precisely place audio with minimal leakage between exhibits and spaces. And we used them in unique ways.'
To navigate the four-storey History Gallery, visitors work their way up from the Slavery and Freedom exhibit, through through the segregation era to the present. Each section is connected by loosely defined Landing Theaters on interstitial levels at one end of the museum. Each Landing Theater has the same layout, with benches that seat 60-to-75 and standing room in the rear.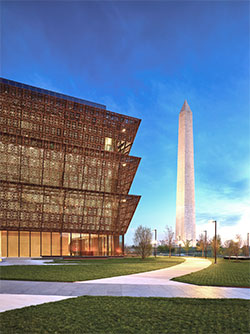 The Landing Theaters are distant from other exhibits, but are wide open. 'You can stand at a vantage point and see them cascading up the building,' Haas says. 'Imagine three theatres that have to deliver a powerful audio experience and are right next to each other, just separated by a little horizontal and vertical distance-and you can't have them bleeding into each other.
'For the left and right main channels, we turned the IC16-R-IIs on their sides to get very tall vertical and narrow horizontal dispersion,' he continues. 'The IC16-R-IIs created the stereo blend, focusing the narrative dialogue on the audience. In each theatre, the speakers and the screen are off centre relative to the seating area, so we used beam steering to direct the left and right channels to the right so the sound localized with the screen. The stereo image is prominent but we contained the overall spread, helping create acoustic separation between theatres.'
Vertical dispersion was not an issue, thanks to an absorptive ceiling about 75-to-90ft above each Landing Theater.
Although Iconyx systems provided localisation and overall audio quality, Haas' team wanted to ensure that people in the rear felt connected to the picture. So beneath each bench are three point-source speakers aimed at the row behind, plus one in the rear for standing visitors. 'The sound seems like it's coming from the screen but it's actually close to you,' Haas says. 'It's a mix of left and right channels so you feel you're in the stereo field.'
Subwoofers are hidden behind a screen about eight to ten feet above.
Renkus-Heinz systems are also employed in the fourth-floor Culture Galleries, which show African Americans' influence on music, visual arts, theatre and dance. 'There's a wide-open theatre with a 360° elliptical screen overhead,' Haas says. 'You sit on benches or stand in the middle and view a custom production that wraps around you, which is very dynamic. To make stereo audio feel multidimensional, we placed six IC16-R-IIs behind the elliptical screen. Each array provides specific area coverage. We created enough of an overlap that we get even coverage, yet it feels like some sounds are present and some are distant.'
Other media experiences surround the cultural theatre: 'We wanted to get sound close to the people, especially those sitting on a bench,' Haas asserts, 'We used another trick – a continuous perforated screen wraps around the entire room, up high-people walk under it to get into the theatre – and we spaced horizontal IC16-R-IIs around the ellipse. They aren't evenly spaced, because of the shape of the ellipse, but ray tracing determined the exact spacing so we got good overlap.'
Complicating matters, Haas recalls, 'the exhibit designers wanted interactive stations right under the screens, facing the outside of the ellipse. So we had to ensure the Iconyx weren't in line with the interactive exhibits. Otherwise, the speakers' vertical spread would pummel sound down on top of the interactive stations. Once we knew where the interactive stations would be, we figured out how to weave the loudspeakers to create an immersive overlap.'
Haas credits the team for a highly successful project. He also praises his tools: 'The precision beam steering and sound quality of the Iconyx speakers were crucial to our designs,' he concludes. As a result, when you visit the National Museum of African American History and Culture, you will enjoy a masterpiece of museum sound.
More: www.renkus-heinz.com