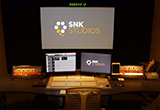 London's busy Tottenham Court Road is a very slightly less frenetic place after the completion of 'an incredible expansion' at SNK Studios, including the opening of a new Dolby Certified mix and ADR studio. Occupying six floors, the facility also includes seven audio post studios all with voiceover booths, a track-lay suite.
Founded in 2003, the studio has mixed countless TV and radio commercials, programmes, documentaries, promos and films.
Now SNK's flagship, the newly opened audio suite Studio 7 is a Dolby Certified room for mixing cinema commercials and trailers in 5.1 and 7.1 surround sound. Studio 7 also holds Dolby Atmos pre-mix status, allowing SNK to track-lay in Dolby's latest 360° surround format, and also able to handle domestic Dolby Atmos delivery.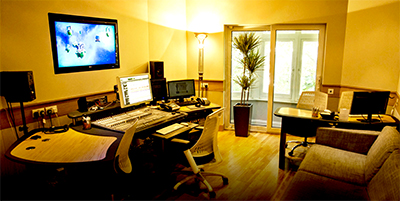 Studio 7 was designed from the ground up in a combined effort from Dolby Europe, acoustician Nick Whitaker (Abbey Road, De Lane Lea, BBC), Miloco Builds and Adam Audio – who's 19-speaker installation is producing 'stunning results, that have to be heard to be believed'. Recording is handles by a Pro Tools HDX 12 rig with 24 channels of Avid C24 mixing.
SNK is also now delivering audio for VR headsets, giving Studio 7 a particularly important role not only in immersive sound but also the future fortunes of the studio.
In addition, the design of Studio 7 enables the large control-room space to be used for ADR. With a multi-screen set-up including a 2m-wide projected image, headphone points available at every turn, and an exceptionally well-stocked mic cupboard, bookings for feature films with A-list Hollywood actors are already coming in.
Combined with Studio 1's good-sized recording booth and control room set-up, SNK Studios can handle a range of demanding ADR requirements with dialogue recording space, for TV drama and film work.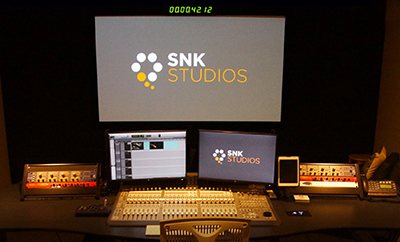 Supporting the in-house facilities, SNK offers the latest ISDN and Source Connect systems available – in all studios. This covers all standard formats for a full range of national and international voiceover recording and remote sync work, giving access to worldwide voiceover talent, remote listen-in and direction, and real-time 'down-the-line' picture sync.
SNK can also claim to be one of the leading voiceover recording studios in London, with award-winning engineers available to ensure the highest quality results, and mics from Neumann and Sennheiser, preamps from Focusrite, along with Pro Tools HD3 recording and Avid C24 mixing.
'Our longstanding relationships with leading voice artist and actor agencies means when casting is necessary, SNK can help you source the perfect talent for your project,' the studio says. 'We can liaise with VO agencies on your behalf, and often get preferred rates.'
Making visitors particularly welcome, SNK also has a luxurious new reception space for meeting, relaxing and preparing for recording sessions. 'With bespoke furniture from AKA and new hospitality staff, it's the ideal place to relax before a big session,' the studio says. 'We do a great cappuccino too.'