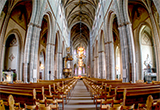 Among the oldest houses of worship in Europe, Sweden's Uppsala Cathedral is renowned for its architecture and history, and has been a protected structure since 2010. Accordingly, Viktor Wadelius has worked to update the building's technical infrastructure without harming its stonework.
When it came to sound reinforcement, Renkus-Heinz Iconyx offered the combination of control and quality required by the challenging acoustic.
'It's a very personal project,' says Wadelius, of Swedish systems integration specialist Svensk Klimatstyrning. 'It's the biggest cathedral in Sweden and I also grew up in Uppsala, so it's a big part of who I am.'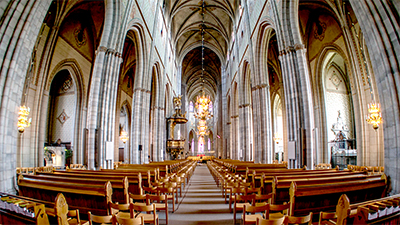 'One of its unique characteristics is that, during services, the priests move around a lot,' he continues. 'They start in the middle of the cathedral, at the central pulpit, and then head up to the high altar, then back to the pulpit, and so on. One service will take place across many locations – we call them scenarios. It's unusual to have to create a speaker system for this kind of environment.'
In the past, attempts to find a suitable sound reinforcement system had achieved limited success – while one attempt might deliver heightened intelligibility, coverage would then become an issue.
'We headed to Europe to visit the big cathedrals and find out what they were using to solve similar problems,' Wadelius says. 'We went to Cologne and they had Renkus-Heinz, and we went to Lund, here in Sweden, and they had Renkus-Heinz, and we went to Trondheim, in Norway, and they also had Renkus-Heinz. They were all happy with their sound systems. So then we made contact through the Renkus-Heinz distributor, Benum Sweden, and everything went well from there.'
'We were invited to Uppsala to perform a demonstration,' continues Renkus Heinz Regional Sales Manager, Håkan Sjoo. 'It was immediately clear that this was a very interesting project. It's a large cathedral and very important within Sweden, hosting concerts with a large choir as well as regular services. It's a truly beautiful building.'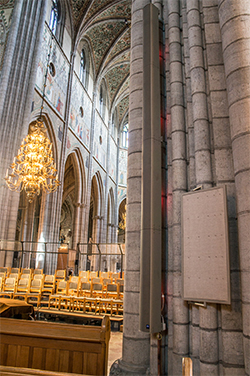 Considering the scale of the system that was eventually installed, it's remarkable that the original demonstration comprised just one loudspeaker array – an Iconyx IC32, which was located at the central altar. 'From the altar to the rear of the seating, it's approximately 40m (131 feet) – quite a long way,' Sjoo sys. 'But even with only one column, the difference was clear. They asked if it was because we were using pre-recorded tracks, so we also had a number of priests test the system and they were happy.'
Even with encoutaging early results, it was clear that an ambitious was required to meet the needs of the cathedral: 'Originally, the concept was based around a priest delivering a sermon from the central altar, and that was it – all of the sound was coming from that position,' says Sjoo. 'But there are at least four different points of focus even for regular services plus special areas such as the rear of the building, where baptisms take place, and the magnificent pipe organ. From an audio point of view, that's very complicated.
'The system needed to be able to cover every area equally, and at a very high quality. It meant creating one of the largest Iconyx installations in Europe, with 40 individual loudspeaker arrays.'
'The cathedral wanted the best possible audio system which would sound as good no matter where you were seated,' Wadelius says. This has been achieved with 22 IC16-8 columns, plus eight IC8 arrays, five IC24 columns, four ICX7 arrays and a single IC32.
'It's very unusual to have 40 line arrays inside one cathedral,' acknowledges Michal Poplawski, Renkus-Heinz Technical Sales Manager, Europe, who joined the project as it was already underway. 'Common wisdom says that it's not good – when you have difficult acoustics and many sources, you will have a problem.'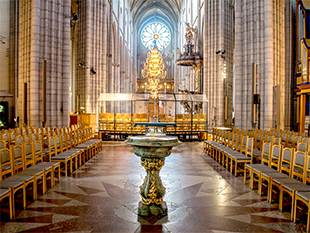 The beam steering expertise embedded deep into the DNA of Iconyx Gen5 ensures that every loudspeaker in the room maintains delicate control over the acoustic energy. In addition, an innovative network tied a show control system means that the cathedral technical team can select which parts of the system are live at any time, depending on the service taking place. 'We have many sources, but most of them, certainly more than half, are inactive in each scenario,' adds Poplawski. 'We needed all of them to build all of the different scenarios.'
Nor has the structure of the cathedral been affected, thanks to the expertise of Viktor Wadelius and an ingenious clamp. 'We have to get permission to do anything inside a cathedral that is this old, so we came up with a clamp that we could use to mount lights and loudspeakers without having to do any drilling. If the cathedral needs to be returned to its original state then they can just remove the clamps and there will have been no effect. Both the clamps and the loudspeakers are painted in the same colour as the columns, and so they blend in very nicely. The entire installation is very discreet.'
Crucially, the system has delivered the audio quality and coverage that the Cathedral sought for so long. 'Even with the extremely reverberant acoustic environment – measuring around five seconds – we have successfully achieved very good intelligibility and audio quality,' Poplawski reports. 'The results are very good.'
Having spent a lifetime around the cathedral, and almost seven years working within it, Viktor Wadelius agrees: 'I am very happy with the final result – it actually sounds better than I believed possible in such an acoustically difficult environment. I am absolutely proud of what we've achieved.'
More: www.renkus-heinz.com