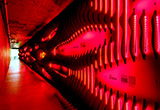 A high-tech exhibition exploring volcanic activity and tracing the creation of Iceland over millions of years, has opened in Hvolsvöllur. The Lava Centre was inspired by flights being cancelled when Eyjafjallajökull erupted in April 2010.
The Lava Centre is a fully immersive show, located where five of the Iceland's most iconic volcanoes to be seen. The design, preparation, integration and finalisation of all A/V equipment for the nine main show items took almost a year.
Feris ehf was responsible for all audio, video, network, CCTV, UPS, system, as well as RGB Neopixel LED design and integration. The company also handled the show control, A/V lighting and LED specifications and installation.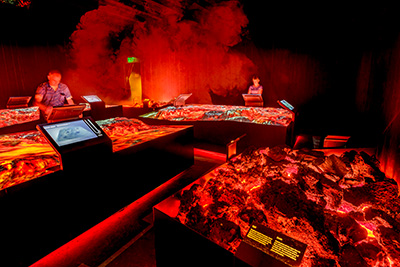 The A/V complement includes 14 Powersoft amplifiers with DSP onboard providing an economic power station to drive the 72 channels of zoned ceiling and surface-mounted loudspeakers, all in one of the four racks in the central technical room. These models comprise Powersoft Ottocanali 1204 DSP+ETH, Quattrocanali 4804 DSP+D (Dante) and Quattrocanali 2404 DSP+D.
Feris project designers Jakob Kristinsson and Bergthor Leifsson also chose M-Force to simulate a volcano erupting – with two M-Drive amplifiers powering two 15kW M-Force Moving Magnet Linear Motor transducers to imitate a 3.7 Richter scale earthquake, or greater. Their purpose is to 'move' a floor measuring 1.5m by 3m in both axes and marks the use of M-Force for mechanical movement.
Powersoft was also chosen for its green credentials, as Feris realised that using the amplifiers to drive the array of loudspeakers would give a radical reduction in real estate and power.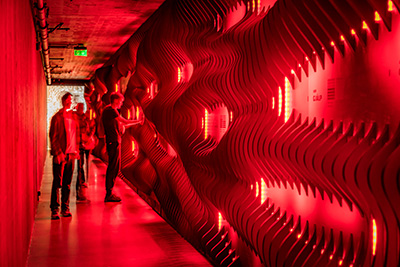 In order to achieve full audio integration, Feris created interoperability between several different platforms via plug-ins, providing an insight into forward-thinking, cross-discipline integration.
According to Powersoft's Francesco Fanicchi, with the aid of plug-ins Powersoft had helped to produce a smarter solution: 'With DSP onboard, interoperability created via MediaMatrix and PreSonus USB plug-ins, networking and remote control, amplifiers have been converted into smart controllers of the future,' he says. 'This has great bearing on integrators involved in multiple disciplines like audio, video, ETH cabling, power distribution and UPS provision, meaning that the future becomes a whole lot easier. In addition, low power consumption, low maintenance, a long life cycle, along with the networking capabilities present huge cost and time-saving advantages for both integrators and operators and make the true cost of ownership extremely attractive.'
There are 15 multichannel audio zones at the Lava Centre located in ten rooms/spaces including one outdoors, triggered by MediaMatrix and PreSonus sound cards. This includes 80 Audac speakers, 13 Audac subwoofers, two Danley subwoofers, three Panphonics flatpanels in the ceiling for spot audio, eight OnePointAudio speakers, an Stewart Filmscreen Phantom HALR screen coupled with a 7.1-channel surround system from PC Asus 7.1 sound card, via Peavey MediaMatrix Niom n3, for the movie theatre.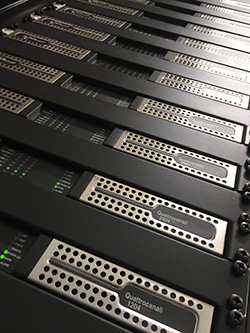 In the movie theatre, audio is controlled by Peavey MediaMatrix Nion n3 using Powersoft amplification to drive a 7.1-channel set-up comprising OnePointAudio speakers and a Danley TH212I subwoofer. 'There were several challenges in the design and specifying amplifiers and selecting the right speakers,' Kristinsson says. 'Powersoft amplifiers had already been installed when the audio files started to be available. This dilemma we solved by choosing carefully "big enough" speakers and amplifiers. Mostly audio is played out from content computers, the same ones that deliver the image signal or the programs for the Neopixel LEDs.'
Kristinsson says that two aspects of the audio design are particularly worthy of attention: 'In Room 00, Eruptions in Iceland, we have built eight Audac speakers close to the ceiling above the LED wall, divided along the corridor. When guests enter the corridor, a PIR sensor detects and sends a message from PLC via LAN to the computer running the LEDs. The computer does two things – it produces a wave of light moving along the wall into the room and also does the same with the audio, sending eight channels of audio signal, via an eight-channel PreSonus USB sound card, using eight Powersoft amplifier channels, producing a soundwave to follow the wave of light. The Idea for this came from Feris audio specialist Bergthor Leifsson and the program that makes the effect was made by Kristian Ross, a PhD in adaptive music in interactive media.
'The other aspect of the audio design is for Room 10, Earthquakes. Under the quake floor is a Danley DTS10 subwoofer with frequency response to below 10Hz. At the same time, in the ceiling in the corridor are four Audac PX110MK2 speakers. The combined effect of the Powersoft M. Force, the Danley subs and the ceiling speakers give a "true" representation of an earthquake. However, care must be taken not to scare people.'Thus we produce a quake of only 3,7 Richter scale.'
Bergthor Leifsson begind the design and use of Powersoft M-Drive and M-Force, with Sveinn Ólafsson overseeing for the audio – 'the only one we know who can turn earthquake waves into a full spectrum audio file'.