Touring in support of their recent Everything Now album, Canadian indie rockers Arcade Fire have completed two months in North America. Their Infinite Content tour has been performed in-the-round at more than two dozen arenas.
Where the band's recording push the envelope of genres, the tour pushes the boundaries of A/V technology with the world's largest Audio Video Bridging system to date for touring concert sound reinforcement.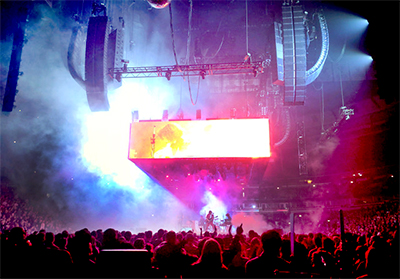 Infinite Content will soon head to Mexico and South America, and also represents L-Acoustics' first official tour using an Audio Video Bridging (AVB) system – which brings a host of inherent benefits, including ultra-simple deployment with minimal network configuring, robust long-distance network communication, low latency, improved synchronisation and reliability.
Supplied by L-Acoustics North American Certified Provider Solotech with support from Germany's Black Box Music, the tour is carrying a total of 92 AVB-equipped L-Acoustics LA12X amplified controllers, 48 K1 and 80 K2 loudspeakers, 56 KS28 subs, eight ARCS Wide and eight X8 coaxials. Processing is handled by a pair of redundant Meyer Sound Galaxy units, one driving analogue lines over copper for system fallback. All of the equipment from L-Acoustics and Meyer Sound is certified through the Avnu Alliance and networked via the AVB/TSN protocol using Avnu-certified 11 Extreme Networks switches. The Avnu Alliance is a community creating an interoperable ecosystem of low-latency, time-synchronised, reliable networked devices using open standards.
'It is exciting to see the power of AVB bring together this magnitude of devices into one reliable, flexible, yet massive touring rig,' says Avnu Alliance Pro AV Segment Chair, Patrick Prothe. 'Having L-Acoustics and Meyer Sound equipment working together in the same setup via AVB is a testament to Avnu certification.'
'We conducted some A/B testing here in the warehouse with L-Acoustics last year and discovered that AVB brought a sonic advantage,' says Solotech Senior Audio Project Manager, David Brazeau. 'It brought better translation from analogue to digital, so we wanted to offer that to our client.'
Solotech worked closely with the L-Acoustics engineering team during pre-production to build the AVB network and ensure trouble-free operation on the road. One of the benefits of implementing an AVB network has been the reduction in the number of connections, reports Méduse Audio Inc owner, Marc-Olivier Germain, the designer of the system and the audio system technician on the tour. 'I used to drive the amps with AES, and would usually have a network just to do the remote control. By using AVB, I eliminated one of the two XLR connections on the amplifiers, so there's less patching and less material to carry around. Plus, because every amp is connected via Cat5 cable, any system reconfiguration and patching is done in the software. 'You don't need to do any physical connections once your network is set up.
'I'm also using a little MotU AVB USB soundcard device at my front-of-house rack so I can grab AVB streams from my Galaxy to look at the EQ curves in real time in Smaart.'
The next step, he says, will be to integrate the AVB outputs of the Avid FOH console into the set-up: 'So we've got a few different manufacturers and they all talk to each other, and everything is stable,' he says. 'I haven't had to use the analog redundancy. Once the AVB stream is locked, it's virtually impossible to lose it.'
Germain's loudspeaker design complement includes 12 K1 over four K2 flown at each corner of the 25ft by 25ft stage above a four-sided video wall. 'Behind each K1/K2 main hang there is a tower of eight KS28 angled at 45°, and the two middle subs are reversed using the cardioid preset. By flying the system in this configuration, I stay clear of the moving lighting elements,' he says.
Beside each subwoofer hang there are 16 K2 facing the sides, providing coverage into the corners of the arena. 'I'm running those side hangs most of the time at 90° asymmetrical towards the outside,' he continues. 'The hangs are less than 60 feet apart and I don't want too much of an overlap in the middle. That's why I keep the onstage side of the K2 "closed" via the adjustable fins at 35° asymmetric.'
With so many boxes equidistant from the centre of the stage, where the band's drummer is positioned, the four corner sources could sum together significantly: 'By using the cardioid preset on the subs and having them behind the arrays it makes a kind of end-fire between the main and subs. The low end is totally under control on the stage.'
Supplementing the flown low-end cabinets, two stacks each of three KS28 subs in a cardioid configuration are positioned on the ground at each corner of the stage. 'One stack faces downstage and the other is against it, facing the side,' says Germain. 'I put a little bit of delay on the outside stacks to spread them out and make the coverage a little more even towards the sides of the venue.'
He adds that L-Acoustics X8 coaxial cabinets served as the tour's front fill: 'I put the front fills on the subs at each corner. To get enough throw on the main upstage and downstage sides I used two ARCS Wide per corner but kept the X8s on the sides.'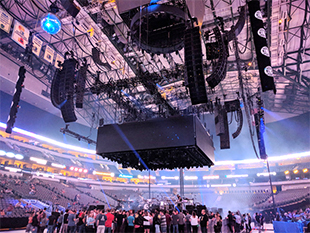 There are 20 LA12X amplified controllers flown per corner. 'We're able to control them and distribute audio without having any cable loss; it's all fibre-optic cable,' comments Brazeau. Twelve further LA12X beneath the stage drive the groundstacked subs and fills, allowing the distance between system elements to be significantly increased.
FOH engineer Jim Warren, who also works with Radiohead, has been using L-Acoustics products for many years: 'I've been working with him for three or four years and it's always been our go-to, and I was using L-Acoustics products before that,' Germain says. 'I always really enjoy the quality, the definition, the top end. Plus, having the opportunity to change the patterns with boxes like K2 makes it easy to adapt the coverage to different venues.'
'Solotech did pretty much everything on their own without having to dig into advanced networking technologies,' notes Marc Benard, L-Acoustics Head of Application, Electronics. 'This is certainly a direct benefit of AVB's 'automated real-time networking' DNA. This is impressive when we consider the size of the system and the importance of this tour. On this project, I particularly liked the fact that AVB Avnu-certified products were used from different manufacturers as opposed to a closed backbone, and there were zero interoperability issues.'
Germain echoes Benard's approval: 'AVB's flawless performance on this tour more than proves that it is an extremely solid solution for concert sound – it's a radical improvement in terms of deployment and sounds amazing with K1/K2.'
Following shows in Mexico, Colombia, Brazil, Chile, Peru and Argentina through mid-December, Infinite Content resumes in Europe in April 2018, with dates in Ireland, the UK, Germany, Belgium, Spain and Portugal.