Loudspeakers: Install
KME VL3i
KME VL3i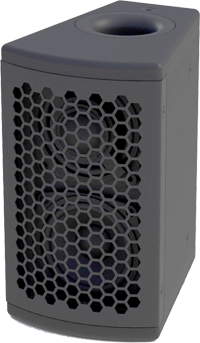 The KME VL3i a compact fixed installation speaker system addressing a variety of applications. Among these are: theatres, museums, lecture rooms, exhibition booths and restaurants, and it can also serve as a top unit in actively channelled PA systems for speech and music reproduction and in surround systems for small cinema and multimedia installations.
To be unveiled at the coming Pro Light & Sound show, the tuned system promises 'minimal' sound coloration and distortion in the midrange (served by two 3-inch cone speakers), with HF from a special 1-inch dome tweeter. A high- grade passive crossover network completes the speaker components. The pseudo-coaxial construction is responsible for both its small dimensions (125mm x 215mm x 175mm) and localisation performance in stereo and multichannel set-ups.
A light-weight but stable glued framework from precise milled fibreboard gives a low-resonance housing, while a solid inner metal construction carries the drivers and mounting points, and gives additional safety when using accessories or installing the system. For integration into existing installations, 4mm terminal clamps as well as a Neutrik Speakon socket are provided. A 100V transformer can be mounted externally if needed.
The KME specific polyurethane coating is normally black and white. Custom colours, as well as special (dedicated outdoor) versions, are available within the project business on request.
Data sheets, 2D drawings and 3D models are available as download or on request.
More: www.kme-sound.com