Ray Davies tours with Soundcraft
Kinks co-founder and Rock and Roll Hall of Fame member Ray Davies recently embarked on a tour of Canada and the US, with LA-based group The 88 serving as Davies' opening act and backing band.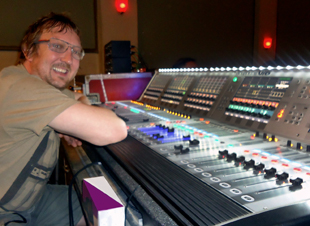 At front of house was the familiar figure of Tristan Mallett, who has has been Davies' engineer for 15 years and is working with monitor engineer Chris Wibberley, who has been with Davies for the past 12 years.
Mallett is a longtime user of Soundcraft's middle-footprint Vi4 digital console.: 'I've also used the Vi1 quite a bit and I love it equally,' he point out. 'It's nice and compact, sounds great and I love the idea that one show file fits all. Having everything fit on a Vi1 allows me to get a bit more indulgent with my music pages on the Vi6. However, the small footprint of the Vi1 makes it perfect for music festivals.'
As Davies' set ranges from acoustic tunes to rockers, Mallett's responsibilities include accommodating a massive dynamic range. 'I need something that will be low noise at low volume and then also something I can drive hard, without running the risk of it overdriving,' he says. 'With the Vi6, even if you do hit red lights, you don't hear them. Transparency and faithful reproduction are vital and very important, especially with guitars. This is why large diaphragm AKG 414 microphones are used on the guitar amps and combined with the Studer microphone amplifiers before entering the digital stage.
'Mic amps are the highest priority for me, plus the Vi Series has everything in one package, with no need for outboard gear,' Mallett says. 'There are some really nice reverbs in there. The Vi's de-esser is also amazing – I don't even need to know how it works, it just does the job seamlessly.
'The whole layout is very accessible and with the Vistonics interface I don't think I've ever lost my place on the board,' he notes. 'The operation of the Vi6 is very intuitive and almost foolproof in that respect.'
In addition to the Vi6 console, Davies relies on a variety of AKG microphones. 'For Ray's vocals, we've used a D7 exclusively for the last 18 months – it's an outstanding vocal mic,' Wibberley says. 'We have 414s on the guitars, which are great, as well as some D5 and even 535 microphones on stage.'
Like many live sound engineers, Mallett's transition from analog consoles to digital several years ago was one he was reluctant to make. However, friend and longtime Soundcraft supporter Paul Hatt of CS Audio. England, turned Mallett on to the Soundcraft Vi Series: 'I've always liked analogue but we of course are now in the age where digital consoles are so much more reliable, so I entered the digital world kicking and screaming, but the Vi consoles helped tremendously,' Mallett said. 'The Vi is very forgiving and feels like an analogue board. It takes a lot of punishment, which is a requisite for rock and roll…'
More: www.soundcraft.com
Hock Thang: Symetrix (Asia-Pacific)

Symetrix Technical Sales Engineer Hock Thang has been promoted to the newly-created position of Regional Sales Manager, Asia-Pacific. 'Since 2006, Hock has been an invaluable resource for Symetrix in...

Read More...
1
2
3
4
5
6
7
8
9
10
11
12
13
14
15
16
17
18
19
20
21
22
23
24
25
26
27
28
29
30
31
32
33
34
35
36
37
38
39
40
41
42
43
44
45
46
47
48
49
50
51
52
53
54
55
56
57
58
59
60
61
62
63
64
65
66
67
68
69
70
71
72
73
74
75
76
77
78
79
80
81
82
83
84
85
86
87
88
89
90
91
92
93
94
95
96
97
98
99
100
1
2
3
4
5
6
7
8
9
10
11
12
13
14
15
16
17
18
19
20
21
22
23
24
25
26
27
28
29
30
31
32
33
34
35
36
37
38
39
40
41
42
43
44
45
46
47
48
49
50
51
52
53
54
55
56
57
58
59
60
61
62
63
64
65
66
67
68
69
70
71
72
73
74
75
76
77
78
79
80
81
82
83
84
85
86
87
88
89
90
91
92
93
94
95
96
97
98
99
100