Dolby Atmos gets custom Soho screening room
The new Soho Square (London) headquarters of Dolby Europe has been furnished with a flagship 70-seat preview theatre that can handle every format of film and video, as well as video conferencing.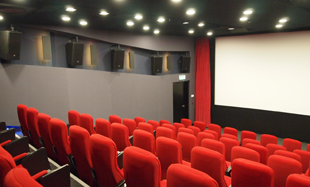 Designed by Munro Acoustics and is one of few threatres outside of the US that is presently equipped to playback the Dolby Atmos cinema audio platform – described by Dolby as 'the most significant development in audio since the arrival of surround sound'.
Atmos bring dynamic audio objects into present channel-based audio delivery – some are calling it 'objective audio'. This approach allows control over individual audio elements regardless of the configuration of the delivery system set-up.
'We engaged Munro Acoustics very early in this project so they were able to advise us on the location of the room as well as other technical issues before we started,' says Hubert Henle, Senior Director of Content Services. 'When we first designed the room we also had to allow for our new Dolby Atmos format, which, at the time was still in development, so the process involved careful planning, particularly in relation to the location of the speakers. The result is the most transparent room equipped for Atmos that I have heard.'
The room contains 36 JBL speakers – 26 dedicated to for surround-sound. Other equipment includes a Christie 4K digital projector, Kinoton film projector, 28 stereo Crown amplifiers and a Dolby Lake EQ system.
'As a studio designer, it was hugely gratifying to be approached by Dolby to design their new London reference theatre,' Munro Acoustics Technical Director Chris Walls
reports. 'The Soho Square building presented some architectural and acoustic challenges, but our design team certainly rose to the occasion. The result is an incredibly accurate theatre that demonstrates the potential of the Dolby Atmos format.'
As well as a demonstration room, the theatre will be used for commercial events, corporate screenings, client tests and for previewing early cinema mixes.
More: www.dolby.com
More: www.munro.co.uk
Marsh Gooch: Aphex

Aphex has recruited Marsh Gooch to serve as its Marketing Manager, overseeing all of the company's marketing efforts. Gooch joins the company after successful positions with Loud Technologies, Tascam...

Read More...
1
2
3
4
5
6
7
8
9
10
11
12
13
14
15
16
17
18
19
20
21
22
23
24
25
26
27
28
29
30
31
32
33
34
35
36
37
38
39
40
41
42
43
44
45
46
47
48
49
50
51
52
53
54
55
56
57
58
59
60
61
62
63
64
65
66
67
68
69
70
71
72
73
74
75
76
77
78
79
80
81
82
83
84
85
86
87
88
89
90
91
92
93
94
95
96
97
98
99
100
1
2
3
4
5
6
7
8
9
10
11
12
13
14
15
16
17
18
19
20
21
22
23
24
25
26
27
28
29
30
31
32
33
34
35
36
37
38
39
40
41
42
43
44
45
46
47
48
49
50
51
52
53
54
55
56
57
58
59
60
61
62
63
64
65
66
67
68
69
70
71
72
73
74
75
76
77
78
79
80
81
82
83
84
85
86
87
88
89
90
91
92
93
94
95
96
97
98
99
100