Florida's Daytona State College has opened a new recording room with Munro Acoustics Dynaudio M4s as main monitors – finding that the system it installed in its first room is still the best option.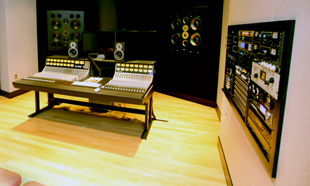 'Our Music Production Technology programme has grown faster than expected and we found ourselves in need of an additional control room to handle the increased number of students,' says Head of Music Technology, Jake Niceley. 'Our primary control room [designed and built by Michael Cronin] was built as a 5.1 surround room with five MA Dynaudio M4s, two Custom MA subs, an SSL Duality and a comprehensive assortment of microphones and outboard gear. We felt like we needed an intermediate step between intro level classroom instruction and the Duality room.
'The M4s were a natural choice when I was choosing a system for Daytona State College. One of the things we focus on in our programme is critical listening and ear training. The M4s offer a very reliable and accurate representation of the source material. We can demonstrate panning, depth of field, imagery, and tonal manipulation with pinpoint accuracy. We often give assignments that require the use of both control rooms so it's very important for us to have sonic compatibility between the two rooms.'
The new control room – also designed and built by Cronin – is a stereo room with two M4s for mains an API 1608 and a good compliment of outboard gear.
'The customisation service we offer came into it's own here as we were able to provide the cabinets with angled faces to give the correct physical alignment into the mix position,' says Phil Pyatt of Munro Acoustics. 'The facility at Daytona State College is outstanding and would be the envy of many a commercial studio. A trip to Florida to commission M4s is a bonus.'
More: www.munro.co.uk