The southwest German state of Palatinate's largest house and electro festival, Tropical Beach Festival, requires several tons of sand poured onto the asphalted venue to help create the ambience for the more than 5,000 visitors. This year, the weather played was on-side, and the beach party took place in bright sunshine with hip sounds and hot beats from acts including Alle Farben, Gestört aber Geil, Hugel, EDX, Luca Schreiner and DJ Olde.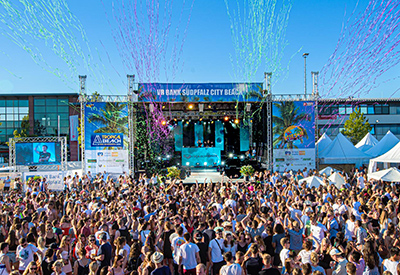 Serving the festival's phat beats and chilled moods, technical service provider WS-Audio fielded a VIO PA system from dBTechnologies.
WS-Audio was responsible for stage, sound, lighting, ambience, video technology and event power supply on the entire site, with Sascha Weis extremely satisfied with the sound performance: 'The artist's feedback was very positive,' he reports. 'Extremely powerful sound up to the FOH in a 35m distance, but an almost silent stage. It worked so well that we kept checking to see if the main PA was really playing.'
The stage was equipped with two hangs of eight dBTechnologies VIO L212 modules and 12 VIO S218 (endfire) subs. VIO L208 were used as fill at the edge of the stage. In addition, the DJs on stage were provided with two S118R and three VIO L210 monitor speakers, delivering high SPLs to the left and right of the desks.
But not only the scene's hottest DJs charmed up the audience – recently appointed referee for Germany's premier football leagueseason, Deniz Aytekin, exchanged his whistle for decks in an impressive guest appearance.