London's Spiritland Productions has commissioned a purpose-built audio OB truck – aimed primarily at the live music broadcast market, the 11m, 18 tonne Mercedes truck, Spiritland One, features an SSL System T S500 surface in a 3.5 bay 64-fader configuration with additional meterbridge. The van is also the first all-IP networked production vehicle of its type in the UK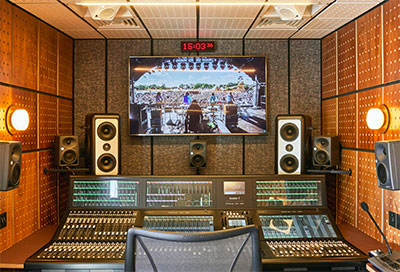 Spiritland is operated by ex BBC sound supervisors Gareth Iles and Antony Shaw, and their choice of SSL and System T for the new truck goes back to work undertaken in choosing the next generation of digital consoles for the Corporation. 'The most important part of that was the listening, and the SSL sounded so much better than all the other consoles,' explains Shaw.
'The EQ worked how we wanted it to work for all the music that we mix. It wasn't a transparently digital sound; to our ears it sounded just as good as the SSL consoles of old. It's witchcraft what they've done with it. And the more we used it the more we liked the interface; it's so fast to navigate around as well.'
The System T interface and its shallow learning curve was highlighted in Spiritland One's first major booking; a week-long gig at the Cardiff Singer of the World contest for BBC Wales. 'It performed flawlessly,' Shaw reports.
'Simon and Andrew [BBC Wales Sound supervisors] had never used the System T before, with a full orchestra and singers, and they loved it. It's quite easy to teach people the basics and then everything follows on from that. We left them alone all week and they just got on with it. By the end of it the meterbridge looked ridiculous. They had meters for everything, they'd shuffled everything about; they'd really dug in deep with what it can do.'
Featuring a redundant pair of T80 Tempest Engines and four SB 32.24 stageboxes, the configuration provides 128 mic/line inputs and processing for 800 active audio paths. As well as out and out sound quality, one of the other major reasons to go with System T for the truck was its support for Dante.
'At the BBC we were early adopters of Dante,' says Shaw, 'and the ease of expansion of the network audio side of things is really appealing. Even though we've only just received the truck we're already starting to tweak and expand things and experiment further with the workflow.'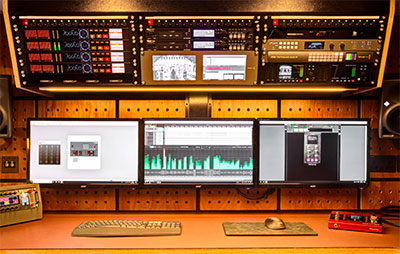 The all-IP networking is enabled by nearly two dozen RedNet Dante-networked audio converters and interfaces from Focusrite. With the RedNet units and the Dante network, from the moment signals enter through the stageboxes deployed from the van's console, they are part of a completely IP-networked environment.
Spiritland One was designed by the Spiritland Productions team working with MegaHertz in Cambridge and coachbuilders Spectra Specialist Engineering. Included are six RedNet D64R 64-channel MADI bridges, four RedNet A16R 16-channel analogue I/O interfaces, five RedNet D16R16-channel AES3 I/Os, four RedNet AM2 stereo audio monitoring units, and a pair of RedNet X2P2x2 Dante audio interfaces.
'From the point at which the inputs hit the SSL mic preamps, the infrastructure on Spiritland One is all RedNet,' says Shaw. 'The advantages of using RedNet for this are significant: we've considerably reduced the weight of equipment and the amount of cabling, both of which are critical in a production-truck environment.
'Also, the newer RedNet devices are fitted with redundant power, which is also very necessary in remote production. Plus, with the RedNet infrastructure, we no longer have to deploy separate sample-rate converters on productions. The user interfaces are straightforward and simple, to the point of plug-and-play, which is another advantage with the rapid pace of remote work.'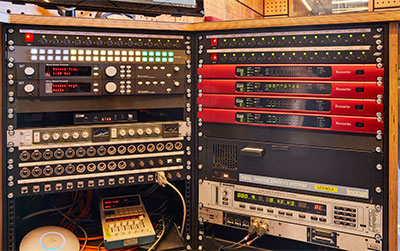 The RedNet devices aboard Spiritland One – which further features redundant 256-channel multitrack recording HD video, the entire Waves plug-in library – are installed across the rig's eight onboard racks, with several A16R and D16R units in the main rack, all of the D64R units in another rack, and more A16R and D16R interfaces in a rack near the metering displays.
'The RedNet devices take up so little real estate aboard the truck, considering how powerful they are, another thing that makes them very attractive to remote work,' says Shaw, who adds that the company's work association with Focusrite goes back many years from his BBC days. 'Focusrite has been a big part of our work,' he recalls. 'RedNet's new generation of interfaces also lets us prepare for the next generation of audio, in the form of immersive formats such as Dolby's Atmos. Spiritland One represents a real turning point in the technology of remote production, and RedNet is the glue joining it all together.'
With systems integration from Megahertz and coach build undertaken by Spectra, Spiritland One is split into two rooms – a mix room at the front and an engineering room at the back. Plenty of attention has been given to providing a comfortable working environment too, from the ergonomics of the System T touchscreen interfaces ('Amazing,' says Shaw succinctly) to replicating the design ethos of the main Spiritland studio in London throughout the truck. It's also been specced very much with immersive audio work in mind, coupling a Dolby DP590 and 7.1.4 Neumann speaker set up to the System T console, with the additional benefit of the system working well to produce the binaural mix that more and more festivals are demanding.
'The way that the SSL handles the monitoring of Dolby Atmos is very good; there are so many monitoring sources on that desk' says Shaw, 'And another thing that attracted us to it was that you can use the universally loved SSL bus compressor in 5.1.4 mode. A lot of mixes we've been hearing from rock gigs mixed in Atmos haven't glued together particularly well, but being able to use the SSL compressor on all those buses is changing that.'
The fibre connection
Running entirely on a Dante network, Spiritland One uses a BroaMan point-to-point fibre transport system running between the truck and the stagebox. The system is based on two new Repeat48WDM-24 with 2Fiber boards, the layout allowing BNC SDI ports to be combined with SFPs, with all signals able to be multiplexed into common fibre.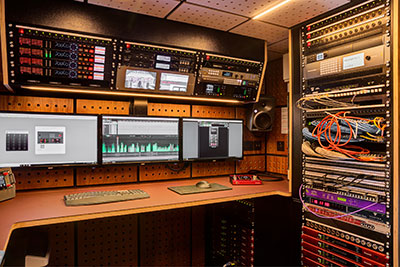 Built around a single 1U-high device, the BroaMan architecture allows bi-directional multi-format, multi-signal transport via a quad fibre cable.
'This is a bespoke truck and the specific configuration of each device was equipped with 12 3G-SDI coax ports – which can be used for video or Madi – and six bi-directional SFP slots which can be populated with any SFP transceiver to transport different signals,' explains BroaMan Technical Sales Manager, Maciek Janiszewski.
Both the Repeat48WDM on the truck and the similar device on the stagebox connect via two Duo singlemode fibres, and also tied into the system are the SSL System T production desk (via singlemode fibre SFP), and 1G Ethernet for AES67 used in the Riedel Bolero comms network (via multimode fibre SFP). Spiritland One also has Dolby Atmos capability.
Shaw had decided on adopting the SSL System T, based on its sonic performance, and knew the infrastructure needed to be end-to-end IP: 'This would allow us to be very flexible with our I/O design and adapt the truck to the job or client's needs; we can easily add additional inputs or have multiple locations or stages,' he says. 'Having witnessed how well the BroaMan/Optocore system fitted on the BBC Scotland DSV OB truck we investigated how it could help us cut down on the amount of fibre needed between our truck and stage boxes." And so, tipped off from their friends at BBC Scotland, they approached Maciek Janiszewski at IBC 2018. "We came up with a rough plan based on eight Madi two HDSDI and three IP networks – all based around their Repeat48 Custom.'
Clearly in an OB truck rack space is the most important factor, 'especially when trying to squeeze in a full-size fridge and a coffee machine,' quips Shaw. 'Therefore, in that respect the BroaMan solution has absolutely been a success. It just worked straight out of the box, and a 1U box in the truck and at the stage has really streamlined our stage delivery system.
'We had all our connectivity on two opticalCon Duo SM Fibres and it hasn't dropped a beat. I would thoroughly recommend these products.'
Recent gigs for Spiritland One include the BBC Cardiff Singer of the World competition, BBC Radio's Friday Night Is Music Night, the world's longest-running live music programme on radio, and the remix of a Kylie Minogue live post-Glastonbury performance on Magic FM.