Third-year students at leading UK drama school Mountview recently performed BOY, an immersive and experiential performance where the audience free roams, intermingling with the set and actors. Challenged to create the sound design, student sound designer, John Guerrier had seen a TiMax training workshop and knew its spatial reinforcement capabilities would deliver an immersive soundscape to every member of the audience regardless of their location.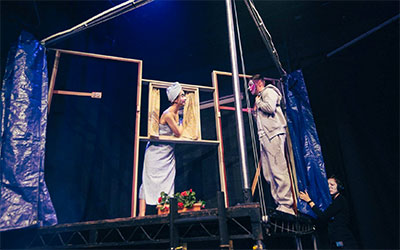 Mentored by sound supervisor Dafyyd Gough – a visiting professional sound designer –Guerrier established a 10.2 loudspeaker system, including a pair of overhead speakerss, distributed around the Mountview's black box studio theatre space.
TiMax created live overhead train announcements, supermarket Tannoy effects and also a preacher's speaker box effect with the help of the onboard EQ. 'We used TiMax extensively to create the obvious effects such as car pass-bys, for pulling focus and for chase sequences,' Gough elaborates. 'There was a moment in the play where the main character gets stoned and we slowly started to spin the music stems around the room to mimic the character's experience.'
Having previously worked on productions using TiMax, Gough was familiar with the technology, though he insists, 'I obviously take no credit, it was all JP but [his sound design] obviously made a good impression.'
With Gough's guidance, Guerrier made sophisticated use of TiMax and its object-based static and dynamic imaging capabilities. Not only was TiMax pulling focus for anchored effects localisation, but also multichannel stems of soundscapes surrounded the audience to immerse them into the environment of each scene. In some instances, for added impact, Guerrier used the TiMax object-based spatial rendering to expand the breadth of the music playback for more dramatic pause and impressive drops.
'Without TiMax, we wouldn't have had time to manually programme all of the object movements in the show, even if we'd used custom QLab scripts,' Guerrier says. 'The TiMax workflow made a huge difference to the tech process. The transitions and soundscapes were incredibly immersive and hyper-realistic. Having such powerful imaging capabilities made the production a dream for me.'
'TiMax certainly lived up to its name and "maximised our time",' Gough adds. 'Without it, controlling and directing the free-roaming audience would have been very challenging, if not almost impossible. Performers then would have had to focus on logistics rather than their performances.
'TiMax is invaluable if your show needs beautiful imaging, movement and actor tracking. There's nothing else on the market that does the job as well or in the same way.'
More: www.outboard.co.uk