Counting more than 100 million record sales, multi-platinum and diamond-certified albums since the release of their debut EP 40 years ago, Def Leppard recently completed an eight-month US stadium tour, selling out a series of 45,000-seat ball parks. Now, the band are preparing for further dates in Europe and North America, with engineers Ronan McHugh and Ted Bible relying on DiGiCo consoles to get the job done.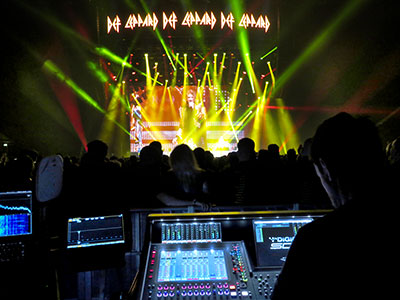 McHugh's longstanding relationship with Def Leppard began in the 1990s: 'I went straight from school into Sun Studios in Dublin, and from there, got into the live side of the industry, just to keep working,' he explains.
'I went on to do a bit for Sanctuary Management in London in the 1990s with Kerbdog & The Almighty – always in the studio and on the road. It was during recording with The Almighty that I crossed paths with Def Leppard, and they've kept me busy in one way or another since then.
'There's no airs and graces with this band,' he continues. 'Some of the guys are more involved in the sound and the production than others, and they will come up with ideas or concepts for tours, but will ultimately allow the production team and crew to get on with it. At least until we screw something up.'
McHugh has always been a FOH guy when it comes to live sound, and although he has worked on a number of consoles – analogue and digital – his go-to today is a DiGiCo SD5. 'When I first mixed the band live, it was as fill-in for a Japanese tour, and I specified a Midas XL4 with a bunch of outboard. I finished the tour with a [Yamaha] PM5D at FOH, which made sense to me at the time, coming from the analogue world,' he says. 'But from that point on, DiGiCo have been stepping up their front end - firstly with the SD-Racks and consoles, and now with the new 32-bit cards. Now you have a console that both sounds great, and ergonomically just works.'
McHugh regards the SD5's versatility as one of its main USPs – being able to add rack after rack of I/O.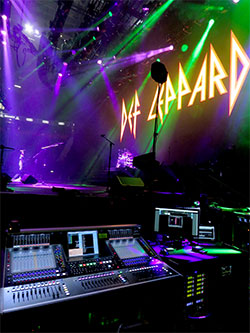 'We have two maxed-out SD-Racks and an Orange Box, and you can pull any input anywhere at the click of a button,' he reveals. 'On remote record sessions, it's so easy to provide a Madi feed to the record truck, or they can have their own SD-Rack in the loop, and we can send them anything we want – from inputs, to stems, to FX or an FOH mix. The options are brilliant.'
McHugh allocates several Snapshots to each song, and between them and his macros, he is able to really dial in his show.
'You can do way more, way easier than you used to be able to,' he says. 'On the show, I use DiGiCo's reverb, pitch and delays from the console's internal FX engine – and they work great for me. Using Snapshots, I can change the whole rack out; it's literally like you have a limitless supply of FX.'
Ted Bible is working monitors for this tour – though when he started out with Def Leppard, he was system engineer and crew chief: 'After about six years, Ronan told me that they were going to make a change at monitors and asked if I would like the job,' he recalls. 'At first I said no, as I considered myself a FOH guy, but after some convincing from Ro I decided to give it a shot. The band only had six weeks left on the tour, and were planning on taking the next year off; they said there was plenty of time to find a new guy. That was ten years ago.'
According to Bible, who works for San Diego-based rental company Sound Image, Def Leppard are the best band he has ever worked for: 'I wouldn't be doing monitors if it wasn't for them; they're the most down-to-earth rock stars I've ever worked for.'
Like McHugh, he is also working from a DiGiCo SD5: 'I really like the console's platform for monitors, as my guys came up in the analogue world, and they expect to hear a change as I reach towards the board, instantly. The SD5 gives the most amount of control on one level, making it very easy and quick to make those adjustments,' he says.
Bible uses Snapshots on every song for mutes, fader control, and minor changes to mixes. He also uses the internal FX from the console. What's particularly interesting, however, is his backline workflow: 'Ronan and I both use the new 32-bit cards, and we are mostly digital on stage for backline – this makes the ear mixes very clean, and gives really great depth and width in the mix. The best part is that we take digital lines from both guitars and bass, and have just started to take drums via Madi and a DiGiCo Orange Box. This leaves only the front five vocal mics, and overheads, hi-hats, and a ride mic. Everything else is direct and this makes for a great stage volume level, very clear sounds, and great control.'
Def Leppard will close their next outing with 12 shows at Zappos Theater in Las Vegas.
More: www.digico.biz