Marking the 40 years that have seen the Caves du Manoir in Martigny in Valais, Switzerland, used for cultural events of all kinds, the entire cave system has been renovated – including its technical infrastructure.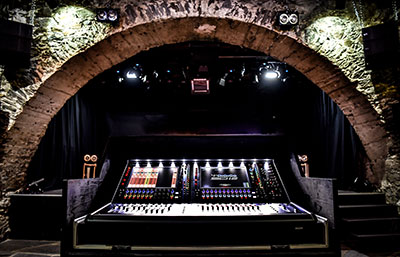 This has seen a DiGiCo SD12 plus D2-Rack, supplied by Tonspur AG as the new FOH console and its existing Meyer Sound loudspeaker system upgraded.
Having been part of the Montreux Jazz Festival audio crew for many years, the caves' Technical Director Sacha Knezevic Rudaz has experienced the SD12 during last year's Festival and, following a further long-term test, decided that the console would be the perfect successor for the Caves du Manoir's ancient analogue console.
'Maybe I'm one of those hardcore DiGiCo fans, but look at what DiGiCo can do,' he challenges. 'They can double the channel count with a single software update, even years after the release of a product; that's not from this world.
'For me it was a logical step to get the SD12 into the Caves. The user Interface means we can have two operators working on the console at the same time, and the fact that I have every important control on a dedicated knob or button is just great. The SD12 looks sexy, it sounds sexy and it will do anything you can, or even can't, imagine.'
At the re-opening with Swiss rock band The Young Gods the audience, technicians, promoters and artists were as excited about the upgrade of the venue as Rudaz: 'Everyone who has come to the Caves and used the console has commented on how pleased they are to be able to work on an industry standard desk,' Rudaz concludes. 'We are proud to have such a strong heritage and equally proud that we have a technical infrastructure that not only brings us up to date, but equips us for the future.'