A short distance north of London, Bishop's Stortford has a long history of brewing – a history that bestows a certain pride of place to Bacchus Bar & Club. While bar's old sound system did not date back as far as the town or its brews, after ten years of service, it was badly in need of replacement. The club brought in XS Audio Visual to design and install an extensive, all-new system.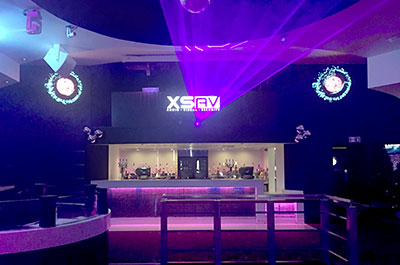 Powered by just two amplifiers from Linea Research, the system is centred on 12 Void Acoustics Venu 12 loudspeakers and accompanying Stasys 218 subwoofers. The catch was that the entire project had to be completed in a hurry.
'We had only four days to completely rip out the existing sound and lighting systems and commission a whole new nightclub sound, lighting, and video install, including relocating the DJ booth and existing TV video feeds,' explains XSAV MD, Lee Michael.
Michael describes the Bacchus Bar as 'a perfectly sized, rectangular-shaped venue that can accommodate 500 people comfortably.' At weekends, the well-established hot spot is often busy enough to reach full capacity, with DJs energizing the crowd. During the week, the club's entertainment systems are used for karaoke and sports events.
XSAV suspended the Venu 12 loudspeakers from cradles near the ceiling. The low end, so crucial for DJs, was a little trickier. XSAV wanted to install a pair of Void Stasys 218 subwoofers, each loaded with two 18-inch drivers. 'The club was concerned that the two subwoofers be out of sight,' Michael explains, 'so we had a wall built around one of them and removed parts of the small bar to accommodate the other one.'
The dozen loudspeakers handle 400W AES power each, and the two subwoofers draw up to 2.4kW AES power. But space taken by a large amplifier rack is space not usable by patrons. XSAV had a ready solution: Linea Research's 44C20 power amplifier, which houses four channels, each delivering up to 5,000 watts (at 2Ω) of class-D amplification, with very low distortion. The 44C20 also offers extensive 96kHz signal processing, including grouping and multi-layer equalisation, as well as Ethernet networking, and a variety of input options (analogue, AES3, and optional Dante/AES67). All of that power and processing occupies only 2U of rack space.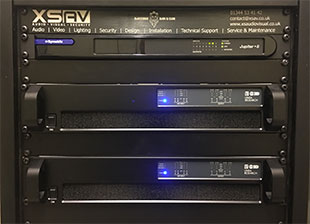 One 44C20 drives all 12 of the Venu loudspeakers, running the channels at 2Ω. The other amplifier handles both subwoofers plus DJ monitors, with a channel left over for future expansion or special needs. The 44C20s more than did the job, Michael reports. 'I couldn't find another four-channel amp that offered 5kW/channel and DSP at this price point. I'm very happy with the product, and the built-in DSP exceeded my expectations. In particular, I really like the thermal limiter.'
Since the Bacchus Bar has no FOH, XSAV installed a Symetrix Jupiter 8 digital signal processor to handle routing and processing. With eight inputs and eight outputs, a host of downloadable apps, and easy programming, Michael praises the Jupiter 8 as a potent choice for Bacchus Bar. 'The DJ set-up, two Sky HD+ boxes, and a local iPod input are all routed into the Jupiter 8 and selectable via a Symetrix ARC-2e wall panel,' he says. 'When I commissioned the system, only minimal adjustments were needed, which was refreshing.' XSAV also supplied a Pioneer Nexus 2 DJ setup, and provided visual firepower with12 ShowTech moving heads and moving washes, a full-colour laser, LED smoke machine, four mirror-ball pin spots, a 75-inch Sony LED TV for visuals and branding, and, to top it all off, two 1-meter 3D LED hologram fan displays.
Given the compressed timeframe, Michael was particularly grateful for the support Linea gave him in getting the amplifiers integrated and configured. 'Linea delivered the amps to site and gave me a quick run through on the DSP,' recalls Michael. 'When I came to commission the amps a couple of days later, very tired and late into the evening, they happily answered my call and gave me a quick refresher on how to set everything up.'
After the trial-by-fire installation, Michael feels that the systems have worked out very well, indeed. 'The finished installation at Bacchus Bar came together perfectly, transforming the venue visually and acoustically,' he states. 'All of the specified products complement each other, creating a greatly improved atmosphere for this popular Hertfordshire night spot.'