Handling 10,000 guests per day in peak season, the Xcaret México resort and amusement park has installed an Allen & Heath dLive system in its Teatro del Rio hotel entertainment venue.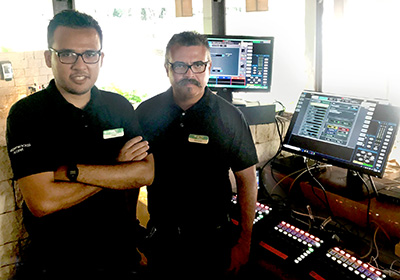 As the layout and distance between the stage and FOH made any Cat5 run impractical, the installation used two dLive DM48 MixRacks – one positioned under the stage and the second in a control room at FOH.
, the MixRacks are further equipped with Dante cards and connected over two underground fibre-optic links. dLive's powerful scene management system enables rapid, complex changes on stage, while all signals are then processed and mixed locally with matrix outputs sent over Dante to the DM48 at FOH, where they are patched to a speaker processor.
'dLive is a complete and powerful mixing tool for both studio and live sound,' observes sound engineer, Diego Andrade. 'It's user-friendly but, at the same time, can be configured to the smallest detail, to handle the most demanding shows. With the Dante option card, the system can grow and compliment itself. It's definitely a high-end system that guarantees the complete satisfaction of users and listeners alike.'
Additionally, the control centre comprises three IP8 remote controllers and a touch-enabled computer running dLive Director, all connected through a PoE Ethernet switch. The strip layout on the IP8 controllers follows the scene automation, always presenting relevant faders to the operator.
'Excellent sound, practicality, intuitiveness and versatility are some of the amazing qualities this mixing system offers, which caters for the specific needs of running our show at the Hotel Xcaret México,' says the venue's Head of Audio, Eduardo Urbina.
The Allen & Heath systems ser supplied by local agent, Representaciones de Audio.