Undertaking her first tour in eight years, Imogen Heap has integrated d&b audiotechnnik's Soundscape– accompanied by an Allen & Heath dLive system – into her Mycelia World Tour.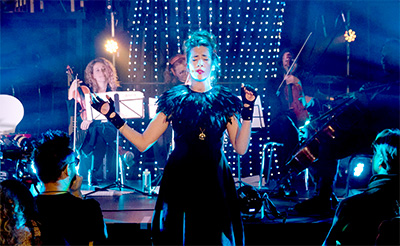 d&b Soundscape system, which allows artists and designers to present more intimate and captivating acoustic spaces for their performances and events. Heap recently tested the system at her barn in front of an audience of friends, innovators and musicians. 'Normally, in a typical gig set-up, the sound would be dispersed across a stereo field in front of you,' she says. 'It's a bit like going to see technicolour for the first time after seeing black and white. Being able to move sound around the audience in 360°, it feels like a whole other dimension.' Heap added 'The sound on the tour is sound like we've never heard it before.'
For innovators like Heap, Soundscape extends the artistic and technical possibilities for sound, and brings the concert experience to a whole new sensory dimension.
Founded by Imogen Heap, Mycelia is a research and development hub for music makers, driven by a growing community of creatives, technologists and industry champions for the love of music. The Mycelia World Tour kicked off in Stockholm on 3 September; its unique touring format bringing together music makers, fans and the industry for concerts, talks, workshops and exhibitions. The year-long world tour takes place in various European cities including Oslo, Prague, Copenhagen and Helsinki before moving to the US and beyond.
Following successful debuts at a range of concerts and events including Womad, Sting's musical The Last Ship, and the acclaimed 3D tour by electro pioneers Kraftwerk, the d&b Soundscape system will play a central role in the sound design of the gigs and concerts happening on the Mycelia tour.
The first d&b Soundscape technologies include a signal processor, the d&b DS100 Signal Engine, and two software modules, En-Scene and En-Space. En-Scene enables up to 64sound objects, a loudspeaker or instrument for example, to be positioned across the entire performance space, while En-Space adds reverberation signatures to the acoustic environment. These reverberation signatures recreate the acoustic profiles of world class music venues such as the Vienna Concert Hall and the world famous KKL Luzern.
The full mixing set-up includes an Allen & Heath dLive DM0 MixRack along with two DX168 expanders, purchased specifically for this tour through Ampco-Flashlight-Sales, which are used in a multi-surface configuration to control both FOH and monitors from a single MixRack. The configuration employed on the tour sees the DM0's 128 input processing channels split to provide 64 input channels with discrete processing for both monitors and FOH.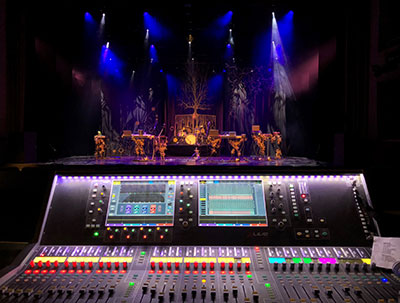 dLive Director software is used for monitoring system control with all musicians having access to individual iPads running dLive OneMix, allowing them to further fine tune their IEM mixes. Each show also features a dLive surface (hired locally), which is connected to the MixRack and handles FOH duties.
'The DM0 gives us the option to bring a console with the proper analogue and digital I/O that we can easily travel with on a plane, without compromising on feature set or sound quality,' says FOH engineer, Joep Hendrikx.
To interface with the performers' laptop-based set-ups, the DM0 is fitted with a superMadi card that sends audio to and from several RME Madiface Pro interfaces, enabling low-latency integration of software instruments and external processing, all at 96kHz. The DM0 is further equipped with a Dante card which is used for sending 64 post-fader direct outputs to the d&b audiotechnik Soundscape system.
Heap further uses her WiFi-Midi controller (Mi.Mu) gloves to create sounds, manipulate audio and control the FX and sound system. Additionally, an acoustic drumkit is played by MissMetric – a robot drummer 'with a strong will' – through small robotic Polyend triggers that are controlled via Midi.
'This tour is truly incredible and the technology used during these shows really speaks for the whole Mycelia project. I met [FOH engineer, system tech and show designer] Petra Randewijk through Women in Live Music, and she was very interested in using dLive for the Mycelia tour,' comments Leon Phillips, Live Sound & Touring at Allen & Heath. 'The brief was for a fly-able, expandable system that could hold its own on large-scale productions. I recommended a DM0 as the central brain and two DX168s to handle the analogue I/O, while the instruments' audio, and Imogen's computer send and returns are kept in the digital domain using fibre-optic Madi links to a superMadi card. The system can be easily set-up, controlled by a laptop or tablet running Director software and it can fit into a Scott Dixon or Peli lightweight case, so it's also easily transportable too. dLive's versatility makes it perfect for the job.
'When looking for the best set-up for the tour, the advice to check out dLive came from almost every direction. The contact with Allen & Heath has been above and beyond anything I could have hoped for, Leon has been truly amazing in helping out with everything, from advising on the set-up to putting us in contact with local suppliers.'
'It's about leaving behind the disconnection between what we hear and what we see,' Ralf Zuleeg of d&b audiotechnik, says. 'For audiences it will feel like diving into a complete different world.'