A full-service event, broadcast, and video production company based in East Tennessee, M&M Productions handles events nationwide, providing turnkey solutions that include lighting, stage design, audiovisual services, broadcast services and event coordination. With the largest audiovisual equipment inventory in the region, M&M Productions uses TW Audio loudspeakers for a variety of corporate, outdoor and musical applications, including a recent event for Mastercraft Boats featuring KT Tunstall.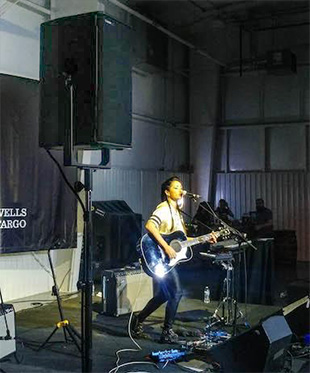 'Right off the bat I was impressed with all of the TW Audio speakers' portability, durability, and compact design,' reports Senior Show Technician Justin Wright, who controls all aspects of event programmes related to sound and light. 'No speaker cabinet I picked up was exceedingly heavy, nor was it overly bulky and awkward to handle. Every speaker casing was designed to be slim and sleek, with full functionality and portability in mind. They're a great choice whether I need to ground stack, put a speaker on a tripod, or fly a whole array. TW Audio thought ahead and designed their speakers for maximum efficiency.'
M&M Productions recently worked on production of an outdoor concert in Anaheim, California, for which Wright used TW Audio's PA-Sys-One, the manufacturer's all-around modular sound system. The plug-and-play PA-Sys-One comprises two TW Audio T24N tops, four B30 subwoofers, and a system amp rack with patch panel and set of cables. The T24N uses two specially designed 12-inch neodymium woofers and one 4-inch mid-high-frequency driver with a 3-inch titanium membrane, combined in a horn-in-horn construction that provides outstanding dynamic range down to 70Hz. The B30 features two 15-inch speakers in a hybrid construction that combines the advantages of bass reflex and horn systems.
Both the T24N and B30 are surprisingly lightweight. As a result, the PA-Sys-One can be transported in the back of a van and loaded, unloaded, set up, and dismantled by one person. 'To set up each speaker stack and run the cables back to the amplifiers only took 15 minutes,' Wright says. 'In that 15 minutes, I had a full PA with cables run, ready to go, all by myself.
'The simple set-up on the ground provided enough volume to overcome the hustle and bustle of several hundred people socialising and two dozen food trucks,' Wright continues. 'The amount of power the T24Ns and B30 subs put out was astonishing. You could really drive the system with no hint of distortion or feeling like you were going to blow horns or compromise your mix. Members of the band were impressed whenever they heard me just playing music through the PA.'
For monitor wedges at the outdoor concert, Wright chose two TW Audio C12 monitor wedges for vocalists and guitarists, and C15 monitor wedges for the bass and drum mixes. 'The 22-piece band onstage was blown away by the wedges' loudness and clarity,' declares Wright. 'The wedges gave me the power I needed with the proper amount of control to provide an audible, clear monitor mix. The C15 is strong enough on its own to use for any drummer and has enough low end to deliver a kick drum presence.'
Wright prefers TW Audio's slim, powerful T20 point-source loudspeakers for a variety of corporate events. 'The TW Audio T20s are my go-to corporate loudspeaker,' he attests. 'They are versatile, sleek, and of a superior build. Interchangeable horns allow maximum optimisation for any situation, and changing horns is easy: Simply take off the speaker grille, pull out your horn, and put in another one. Magnets hold the horns in place for easy switching. With the 90° x 60° horn, I have used the T20s in ballrooms at convention centres, flown in exhibit halls, for outdoor events, and even in air hangars. The cabinet provides enough low end to play music without needing a subwoofer. The horns help provide a crisp, clean sound, which is important in a noisy room whenever there's a keynote or a panel of people talking on stage.
'Overall, I have yet to use a TW Audio product that I haven't been satisfied with,' he concludes. 'Regardless of the room or task, TW Audio can equip you with the correct equipment to get the job done.'