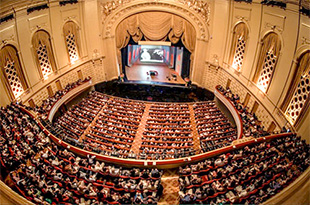 The San Francisco Opera has adopted the ARX USB DI Plus USB audio interface for its computer-to-audio system interface requirements.
Supplied by New York-based ARX dealer Markertek, the USB DI Plus was designed to enable production companies to allow connection of any USB-equipped computer – in particular, notebook computers – with the balanced inputs of professional sound systems. Fitting equally well into the theatre environment, the USB DI Plus features a straightforward plug-and-play design with a robust solid steel chassis and no external gain/volume control to make it tamper proof.
Part of the ARX Audibox range of of USB Audio Interfaces, the USB DI Plus uses a 24-bit high-resolution digital-to-analogue converter, which eliminate the use of internal soundcard outputs in the computer with their inherent noise and distortion. Easy to install as a fully compatible generic plug-and-play USB audio device, the USB DI Plus does not require any special driver program installation, and switched to USB mode the unit is powered via the USB cable, so no batteries or phantom power are required.