San Francisco-based Roth Audio Design counts credits in music, casting and direction, and recording and mixing for film, television, games, museum and theme park installations, radio productions, and on-line media. A typical week might see owner Andrew Roth handling classical and jazz music concerts, major motion picture and network television sound effects, and radio interviews, as well as voice casting, advanced audio restoration, audio direction and project consultation.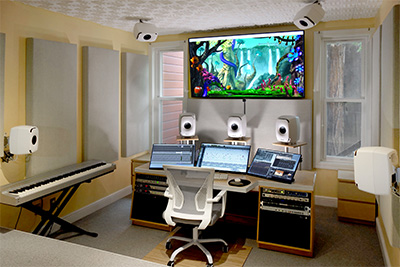 To meet this wide range of needs, he recently installed 8331A and 8341A Smart Active Monitors from Genelec – three 8341As constitute his LCR array, with four 8331As used for left-right side and rear, and four additional 8331As as overheads. A 7360A Smart Active Subwoofer handles the low end. All of the speakers are equipped with Smart Active Monitoring technology, Genelec's self-calibration protocol, and all were installed in the bold white colour scheme.
Roth has a pragmatic working style that seeks to get to the heart and soul of a project's audio, from capture to mix, in a variety of playback formats: 'I rely on my monitors to accurately tell me what's going on in a piece of music or other audio, so that I can take it where it needs to go. For me, it's about the usefulness and the results, rather than geeking out over the gear itself. Genelec Smart Active Monitoring gives me the tools I need, plain and simple.' Smart Active Monitoring creates an optimised and precisely controlled monitoring environment. After automatic calibration, monitoring setups ranging from simple stereo to immersive audio will perform with consistency even as they are compensating for any deficiencies in a listening environment.
Roth has owned Genelec speakers before and has come to trust them for their accuracy and ability to let him mix for long stretches without fatigue. The 8341A and 8331A monitors are no disappointment: 'I absolutely love them,' he says. 'The technology architecture is amazing, and the imaging is perfect. You cannot ask for better sound. The same with the 7360 sub – it fits the bill for a room like mine that's on the smaller side, while maintaining the same low-end extension of the 7370. And with the Smart Active Monitoring technology, they also address and solve any problems my room might have.'
In addition, he says, the range of market sectors, media verticals and, most recently, monitoring formats, as object-based multichannel formats like Dolby Atmos are quickly becoming adopted by film, television and games, the 8341A and 8331A monitors offer him flexibility along with great sound and room adaptability.
'We're seeing Atmos becoming more and more common for a range of media, and Genelec monitors help me adapt to each one, while helping make my studio competitive with larger facilities when it comes to immersive sound formats,' he says. 'And the 8341A is possibly the best center-channel speaker ever – the image is wide but remains focused, which means others in the control room don't have to crowd into the sweet spot to hear it correctly. The Genelecs are the tools I need for a more complex sound industry.'
More: www.genelec.com