Occupying a prime site off London's Leicester Square, Studio 88 is a new concept in entertainment, billed as 'a non-stop, audience requested, live music experience'.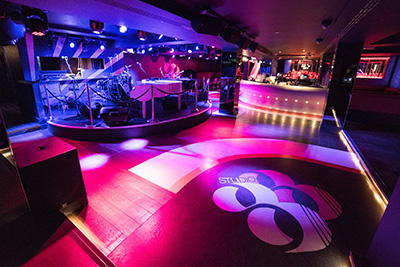 Each night. two pianist/vocalists and accompanying musicians form a six-piece band to play a non-stop repertoire of music decided by the customers who populate the 350-seat restaurant.
The brainchild of Alan Lorrimer, founder of The House of Song, the venue features a stage equipped with a Martin Audio sound system from W1 Productions, using a variety of the company's components and control. Both W1 Productions MD, Stuart Turvill, and Operations Manager, Alan Beck, have wide experience of Martin Audio systems in their various guises, the latter having first encountered the Philishaves and split bins while running FX Music with brother Dave in the 1980s.
'I have always been a Martin Audio person, and so it was a no brainer to specify the brand,' he comments.
Here the company has designed an ingenious stage system based on the venue's extremely low ceiling. Two XD12, mounted horizontally stage left and right, are complemented by four CDD8 in a pelmet line, which project the sound forward towards the main dancefloor. Low frequency extension is provided by three strategically placed Martin Audio S18 bins, and a further CSX112 sub.
W1 Productions was recommended to the client by a mutual friend, and Stuart Turvill put together the design after visiting Alan Lorrimer's other venue – The Piano Works in Farringdon.
The Studio 88 venue itself was previously a basement nightclub, but had closed down. 'Since it is a basement, the obvious challenges were the low ceiling height,' Alan Beck says. 'We had to make it as unobtrusive and flexible as possible. The long rectangular shape of the building, with reflective surfaces and lots of little alcoves coming off it, was another problem we had to contend with.'
In the user-rotatable 80° x 50° constant directivity horn of the XD12, matched with the CDD range, W1 Productions found the optimum combination – without needing to set delay taps.
'From a physical perspective this design fitted perfectly, and the XD12's provide plenty of "grunt",' Beck reports. 'With two S18s stage left and right, and a third at the rear of the bar, we have achieved uniform distribution throughout the main performance area. As for the CDD's, we really like these – for their size they are extremely powerful and a very nice sounding box.'
All channel presets are stored in a pair of dedicated DX0.5 system controllers. With clarity taking precedence over volume, the system has been balanced and fine tuned by the The House of Song's Senior Sound Technician, Tom Wheatley and W1 Productions sound engineer, Lawrence Chichon.
'This installation proves that you should never be afraid to mix boxes up. The XD and CDD form a perfect combination,' Beck says.
'We are extremely pleased with the Martin Audio equipment that has been installed at the venue,' Wheatley adds. 'It responds well to our needs, providing clarity for both our live music and DJ requirements. The system offers great quality at the price point and we are happy to give positive reviews for the money invested.'