Bridging the gap between the large and smaller studios, Rimshot Productions recording studio in Kent has installed an Audient ASP800 8-channel microphone preamplifier to sit alongside a 1960s valve Decca recording console and SSL AWS900+ mixing console.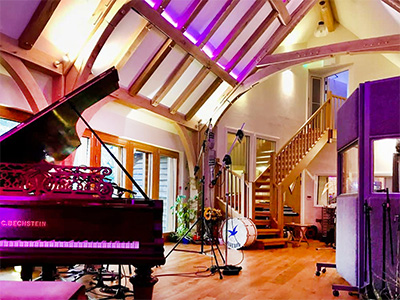 'They offer loads of headroom, capture transients really well and are very pleasing on a wide range of sources,' comments Rimshot studio owner Mike Thorne.
He highlights the unit's retro channels in particular, which feature two variable harmonic colour controls per channel – HMX and Iron. 'I really enjoy using them on overheads and vocals as they have a weight of sound to them that I love,' he says of circuitry designed to recreate tones often associated with 1960s tube designs and the coveted 'transformer zing' of British audio in the 1970s.
'Mi preamps all have different strengths, and picking the right tool for the job is a shortcut to getting the sound you want – although of course it's secondary to the musician, instrument and room,' he says. 'It's another choice, sonically, which is always useful. Having a DI always accessible in the rack is also great.'
With a Studer A827 2-inch tape machine and Pro Tools HDX with Burl converters, when it comes to his gear, Thorne appears to have one foot in the past. 'A lot of sessions start on tape and move to the computer for overdubs and mixing. It can be a great way to work and offers the best of both worlds,' he explains. 'Recording to tape brings with it a certain discipline – if the artist wants to re-record a part, they know we'll be erasing what they've already done – it helps musicians step-up and give their best because they know there aren't unlimited playlists.'
Rimshot is nicely booked up, with more work in the pipeline. Thorne recently finished mixing a live album for blues artist, Roger Hubbard. 'We are about to start mixing his new studio album. It has some great musicians on including a guest appearance from keyboard player Jon Cleary who won a Grammy last year for best Roots album.
'Another recording session I'm looking forward to is with drummer Andy Newmark [John Lennon, Sly Stone] and bass player Jim Leverton [Steve Marriott, Caravan]. It'll be the band live in the room with live vocals and probably lots of first or early takes – should be an exciting one.'
More: www.audient.com