Based in Austin, Texas, StageTech services range of productions ranging from live music and theatre to corporate seminars and presentations. A long-time fan of Alcons pro-ribbon technology, company CEO Bill Mester welcomed the opening of a US operation as an opportunity to invest in an Alcons LR7 micro line array to serve small to medium-sized venues.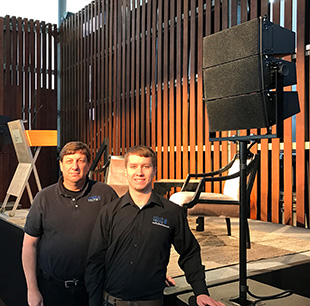 'I have a keen interest in providing clients with the best-sounding systems available,' he says. 'I have loved the pro-ribbon technology from the beginning and was anxious to invest in it. This became a realistic option when Alcons US was set up and, when I looked at the systems, the LR7 was obviously the one which would best suit my diverse client base.'
StageTech has purchased a system comprising six LR7/90 micro line array modules, two LR7B double-tuned, concentric band-pass bass modules and a Sentinel10 Amplified Loudspeaker Controller, plus cases and flying hardware. 'For a physically small system, you get incredible SPL and clarity,' Mester says. 'It's a great system for music, theatre and corporate events because, as well as the excellent power, audio quality and coverage, it's incredibly flexible. It can be flown, ground stacked or stand-mounted and its low profile means that you get very clean sightlines.'
Austin brands itself The Live Music Capital Of The World, and the LR7 system is finding plenty of use at the city's many live shows. But its compact size is particularly useful for corporate events, many of which take place in Austin's smaller ballrooms.
'There are always sightline concerns for the lighting and video elements in the corporate market. People really don't want to see the audio system,' Mester says. 'LR7 is perfect because it can cope with the constraints on space, but people are always amazed at the levels and quality we get from it.
'With these events, as well as with theatre, you have a lot of lavalier microphones. The LR7 system copes brilliantly, someone with any kind of mic can stand right next to it. Feedback is pretty much a nonexistent issue.
'It's light, manageable, quick to rig and it sounds great straight out of the box, while the DSP built into the Sentinel10 takes the guesswork out of tuning it. It all helps with setting up quickly at events where we are very short of time.'