Located in the heart of New York's Financial District, Ulysses' Folk House a popular downtown destination with live music on Saturdays and DJs three nights a week. To ensure the best audio quality for guests, the venue has upgraded its sound reinforcement with DAS Audio Vantec Series loudspeakers.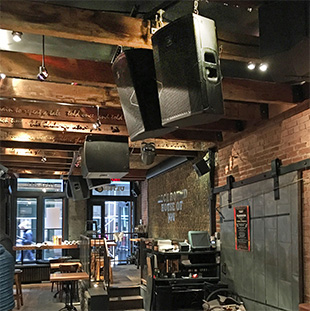 Named after the novel by James Joyce, the venue was founded by a group of private investors and restaurateurs from Ireland and Greece, and serves up a dual theme of Irish and Greek influence. Canal Sound & Light was contracted to install the new sound system, with Executive VP Jeffrey Kwan coordinating the project.
'Ulysses' Folk House has three components,' he explains. 'There's the main bar where the DJ booth is located, the Carvery bar where the live music stage is located, and an outdoor beer garden. The venue's approximate size is 5,000sq-ft plus the outdoor space. The Carvery bar is where the live music takes place, and this is where the new DAS Audio equipment was installed.'
The sound system consists of two DAS Vantec 15A powered, two-way point-source enclosures and two Vantec 18A powered subwoofers, which serve as the house mains. Additionally, there are two flown Vantec 12A powered, two-way loudspeakers that serve as a side fill/delay set-up to add further depth to the room's sound. Facing the stage, the mains are flown Vantec 15A/Vantec 18A and Vantec 18A/Vantec 15A.
'The Vantec series is a high-quality loudspeaker that has high output and, most importantly, rigging points for both the mains and subwoofers,' Kwan says. 'Given the low ceilings in this space, we wanted to fly the loudspeakers upside down to put the horn driver closer to the listener. Our installation partner, AVprosNY, and I were very pleased at how easy it was to do this.
'We love the music reproduction and speech intelligibility characteristics of these loudspeakers,' he adds. 'As our customer uses them for live music, speech and parties, the Vantec series has proven to be a versatile loudspeaker line that handles the various activities that occur in this space very well. DAS Audio's DSP options make the Vantec line a great box to setup and modify as required and are among the most impressive aspects of the series.'
'As Canal Sound & Light is one of B-Side's multi-faceted customers involved in retail, installations, and production, Darren 'B-Side' Young makes certain we're well-supported in the many ways necessary for us to succeed,' Kwan says. 'We've been very pleased.'
Since installation, Kwan reports the system has been very well received: 'The owners are ecstatic about how their amazing new sound system impresses both customers and bands alike. Already, they look forward to adding some DAS monitor wedges in the near future.'